The inaugural Star Wars Half Marathon—The Dark Side at Walt Disney World in Florida had 18,182 finishers on April 17, 2016. I was among them as a media guest of runDisney, with my husband, Phil, running by my side. Another 12,172 runners finished the Star Wars 10K the day before.
I had one goal for the race: run a PR. I wrote about the attempt for Shape.com: Should You Ever Give Up On A Fitness Goal?
"Do. Or do not," Yoda famously says in Star Wars:The Empire Strikes Back. "There is no try."

Yoda obviously wasn't a runner.

A long time ago in a galaxy far, far away, I first tried to break two hours in a half-marathon. It was 2010 in Montreal, Canada, and I failed. Six years later, I'm still trying. I've run more than 25 half-marathons, gutting out 2:00:30 at my fastest. (What Makes You a Runner?)

At this year's Star Wars Half Marathon at Walt Disney World in Florida, I channeled the Force for yet another attempt. Dressed as Rey from Star Wars: The Force Awakens, with my husband as Chewbacca by my side, I set out on a 13.1-mile—or, you know, 6.83 parsec—quest.

In running and in life, goals and dreams keep pushing us forward. What keeps us chasing them? In a word: Hope. It's true in Star Wars, running, and in life. But when is it time to say enough is enough? Should we ever let hope fade into resignation?
You can read the entire essay, full of Star Wars wisdom, at Shape.com.
I'll admit: I'm not the world's biggest Star Wars nerd. Yes, I've seen all the movies and enjoy them. I even had an Ewok stuffed animal as a kid in the '80s and wanted Princess Leia buns in my hair. But I'm not as into it as I am Disney animated films. After all, my dog is named Cinderella, not Princess Leia.
Why? Leia seemed to be the only female in a galaxy entirely populated by men, much like the Smurfs. Weird. As a little girl, it just didn't speak to me. I didn't see myself anywhere on screen, except in Leia.
Enter Star Wars: The Force Awakens. I loved it, largely and not-so-subconsciously because women were everywhere. You have your latent Jedi in Rey, your military leader in Leia, your villain in Captain Phasma, your female fighter pilots. Even Rey's "Yoda"—Maz Kanata—is female. The movie brought me a new love and appreciation for the Star Wars franchise.
So I was pleasantly surprised by how much I loved this race and totally geeked out over all the Star Wars characters. Any time one of them—like Stormtroopers or Captain Phasma—talked to me though a thoroughly convincing voice modulator, I felt giddy as a kid completely transported to another world. Both Phil and I thoroughly enjoyed the experience.
Here's the scoop, including running in costume, the course, where I stayed, and the race itself.
Star Wars Half Marathon: The Dark Side Course
The Star Wars Half Marathon—The Dark Side course takes runners around the world at Epcot, through the Boardwalk area, to Hollywood Studios, then on to Disney's Animal Kingdom, and back to the ESPN Wide World of Sports Complex for the finish. It's a new course for runDisney, but similar to the Disney Wine & Dine Half Marathon course in reverse.
Fireworks mark the start just outside of Epcot.
Miles 1-2 takes runners around the world at Epcot.
Miles 2-4 tour the Boardwalk area and Disney's Hollywood Studios.
Miles 4-8 take runners along a stretch a highway before they reach Disney's Animal Kingdom for Mile 9.
Miles 9-12 lead runners back along the same highway and into the ESPN Wide World of Sports Complex.
Mile 12-13.1 goes through the sports complex and into the finish.
Overall, it's relatively flat with a few "hills" as you climb some highway overpasses. At the top of the two worst hills, Disney's entertainment team placed huge screens playing scenes from the Star Wars films. I really appreciated that. It gave me something to focus on as I climbed. Another nice distraction as we ran through a tunnel included fog misters and the ominous breath of Darth Vader. Pretty cool.
Spectators turned out in fantastic style at this race. I was pleasantly surprised by how many folks were out to cheer us on. The parks were packed with characters, and Star Wars music played throughout the course. Miles 1-4, Miles 8-9, and Miles 12-13 were flooded with music, spectators, character stops, or other photo opportunities, like putting yourself into iconic Star Wars movie scenes. Disney PhotoPass photographers were on hand at most of the locations.
However, the stretch of road between Hollywood Studios and Animal Kingdom during Miles 4-8 and Miles 9-12 was sparse and lonely. That's fully half of the race. They could certainly use some more photo opps out there. But Disney kept the music pumping on the road—from loudspeakers playing ominous Dark Side music to a live DJ playing remixes of Star Wars tunes—even if there weren't many characters or other photo opps. This is also the section with the giant screens playing scenes from the movies, so there still were some nice distractions.
Overall, I thought the on course entertainment did a great job of spreading the Star Wars spirit. Storm Troopers, Storm Troopers, and more Storm Troopers lined various parts of the course. I also spotted Darth Vader at a few different spots. After all, this was his race. I took pics with Storm Troopers and Darth Vader, along with Darth Maul, Tarfful the Wookiee chieftain, and a Wolfpack clone trooper.
Other characters on course that we didn't stop to take photos with included R2D2, Chewbacca, Kylo Ren, Boba Fett, Sabine Wren, Ezra Bridger, Tusken Raiders, Jawas, and other characters as depicted by 501st Legion, Rebel Legion, and Mandalorian Mercs cosplayers. They cheered runners on in full costume.
There were also photos opps where you could place yourself in iconic Star Wars scenes, like the ice cave from Empire Strikes Back, the trash compactor from A New Hope, the Emperor's chair, ruins of an AT-ST Walker on the Forest Moon of Endor, and a Speeder Bike. And in the parks, you could pause for pics in front of iconic spots like the Tree of Life and Expedition Everest in Animal Kingdom. If you wanted to stop for photos, there were plenty of opportunities, even if they were bunch together in and near the parks.
After the race, I snapped shots with Captain Phasma, BB-8, more Storm Troopers, and a Rathtar. Darth Vader was also out there again for runner meet and greets.
Star Wars Half Marathon: Running Costumes
Of course, one of the best parts of running Disney is running Disney in a running costume. I love dressing up and seeing what all the other runners are wearing.
I let my husband pick who he wanted to be and said I'd come up with a costume to co-ordinate. He didn't hesitate for a second: "Chewbacca," he said. Oooooookay. After many debates about how he would actually achieve this—if budget had permitted, he would have rented a high-quality hair suit—he finally decided on a fuzzy onesie that we bought online accompanied by a Chewie hat I found at Epcot.
It was a crowd pleaser. We got lots of cheers for Chewie and also learned he was unofficially the fastest Chewie at the race. (And that was moving at my speed. He runs a 1:26 half marathon on his own.) At all the parks and spectator spots we kept hearing, "First Chewie of the day!" And "That's dedication!" And "You must be hot!" Yes, yes he was.
So I decided to dress as Chewie's new pilot and general ass-kicker, Rey. Was I one of 1,000 Reys at the Star Wars Half Marathon? Yes. I love that we finally have a female Jedi!
I already owned the entire outfit, except the cross-sashes. I popped into a fabric store and bought a lightweight poly fabric for those. I also wore: an Oakley tech tank (which was a freebie), Hind tech pants, cut-up tights for arm sleeves, a leather belt, and cut-up brown t-shirt for my "leather" wristband, along with New Balance Fresh Foam 1080 shoes (courtesy of New Balance). I paid special attention to Rey's signature triple bun hair. It was actually really comfy to run in.
Star Wars Half Marathon: Karla's Race
The Star Wars Half Marathon the Dark Side had a 5 a.m. start. Whoa. Phil and I were at the official runner transportation bus at our hotel, Disney's Animal Kingdom Lodge, by 3:20 a.m. We didn't have to wait long for the bus and were on site by 4 a.m. We didn't dawdle in the start village—dropped off our bags, hit the port-o-lets (with surprisingly short lines) and headed to our corral. It's about a 15 minute walk from the starting village to the corrals.  There I finally met long-time blog friend, Judy at SoVerySlightlyMad.com.
With a cool 64 degrees, but balmy 73% humidity, I wondered whether this would be my day. When I stepped into Corral D with Chewie by my side, I had one goal in mind: Give my best shot at a half-marathon personal best. I was coming off an easy-breezy PR at the Cherry Blossom 10-Mile Run in Washington, D.C. that put me on pace for my coveted sub-2 hour half-marathon. That was just two weeks before. I knew I had that sub-2 hour speed in me, but questions swirled in my head.
Would my body be fully recovered from Cherry Blossom two weeks earlier? Would my legs have enough steam after three full days covering over 20 miles while walking around the theme parks? Would the Florida humidity co-operate?
After all, it was a long winter in New York City and my body wasn't conditioned to any kind of humidity. My 10-mile PR just two weeks before was run on a 37 degree day with a windchill of 20.
So the answers would be no, no, and no. No, I wasn't fully recovered from my Cherry Blossom PR. My legs were torched by the three prior days in the theme parks, covering 20 miles. And I was not ready for 64 degrees and 73% humidity.
That said, Chewie and I put in a valiant effort. Even I have to hand it to myself. Here's how it went down. The splits are what Phil clocked on his watch.
Mile 1—10:08
We eased into our pace, aided by the thick field of runners. We would have had to do a lot of weaving to go much faster. But it was OK. Our plan was to slowly ease into a 9:00 over the first three miles. And stay calm, cool, and collected.
Mile 2—9:42
All going according to plan. Except that we were both completely covered in a thick sheen of sweat—me because I was working hard, Phil because he was wearing a Wookiee suit. At this point during Cherry Blossom 10-Miler, I was still shivering from the cold.
Mile 3—9:03
We finally hit our pace but my legs were dead. D-E-A-D. Toast. Finito. I didn't mean to walk more than 20 miles in the three preceding days. I know better. But I was at Disney with my niece and nephew and we were having fun. We stormed Magic Kingdom, Animal Kingdom, and Epcot, power walking from ride to ride and park to park. We ran the runDisney Kids Races at ESPN Wide World of Sports Complex. We hit the Expo. We used up my legs real good.
On our way from the Boardwalk to Hollywood Studios I heard a familiar voice call my name. It was Dave Mari, who I first met in the corrals at the Disney Princess 5K and became fast friends, meeting up again at the Enchanted 10K and Disney Princess Half Marathon. He snapped a runfie of us.
Mile 4— 9:58
I melted and stared vocally telling Phil this wasn't going to happen. "My legs are dead," I said. "I'm dying," I said. The dark side had gotten hold of me.
Reaching Hollywood Studios helped perk me up a bit. The park was packed with characters and music. Phil snapped some blurry pics as we ran by.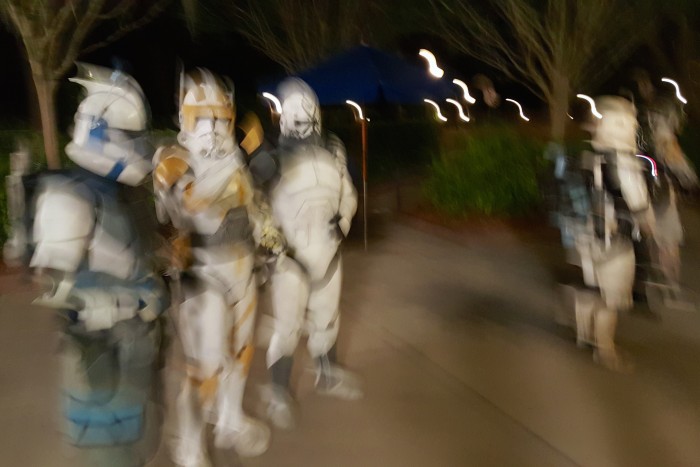 Mile 5—8:48
Phil talked me off the ledge and we gave it the old college try. We started hauling to make up time, and ran what would be our fastest mile of the race.
Mile 6—10:10
"Slow. Down!" I gasped. I'd burned too many matches. I was out of breath with tree trunks for legs. I knew this PR attempt was over. I really think it was the combo of not being fully recovered from my last race, walking 20 miles in the three days before, and the Florida humidity. Was it terrible? No. But was it way more than my body was conditioned to? You bet. If this had been the end of August, I'd have been conditioned by a hot, humid summer. But coming off the winter-that-wouldn't-end? Yeah, that was rough.
Mile 7—9:48
After that recovery mile, we decided to still make this race a nice, hard effort. So we kept pushing, but decided to inject some fun into our race when we could.
Mile 8—9:32
These miles of the course were the toughest of the race simply because they're on a long, lonely stretch of road between the parks. I could always hear music, which was great, and they stationed jumbo screen playing scenes from the Star Wars films at the crests of a few highway overpasses, which was also great. But characters were few and far between.
It was somewhere around here that I ran into Dani from WeightOffMyShoulders.com. We go waaaaaay back to the Runner's World Heartbreak Hill Half and ran the New Balance Reach The Beach Relay together. We got this runfie.
Mile 9—14:10
No, we didn't have a meltdown. We reached Animal Kingdom and decided to stop for some character photos! I figured if I'm not going to run a PR, I definitely wanted some pictures. We'd passed up the Chewbacca photo opp early in the race when we were still "racing" and I regretted it. So I wanted to make up for it. When we saw Stormtroopers…
followed by Wookiee chieftain Tarfful, we just had to stop.
Tarfful seemed pretty excited to see Chewie. We had a nice Wookiee moment. Then, once you start stopping for pictures, it's easy to keep stopping for pictures. Like this pic with Darth Vader, Darth Maul, and other baddies.
And more Stormtroopers. Couldn't get enough Stormtroopers!
And we saw Dani again as we waited in line for a photo.
Picture in front of The Tree of Life? Why not?
Mile 10—9:40
We finally left Animal Kingdom and passed up a few other photos opps to get the show on the road. As the sun started to rise, we were getting hotter.
Mile 11—9:22
This was my third fastest mile of the race. We were taking care of business, back out on the highway and clipping along. Another Dani, aka Pastry Chef Dani, spotted us from the other side of the road and gave a wave. Loved that! And we saw Dave Mari again who snapped some pics from the other side of the road in this out-and-back section.
Mile 12—10:27
Are we done yet? That's honestly all I could think about at this point.
A reader snapping pics of runners managed to capture this shot of me. Thank you, Laura Eaton!
Mile 13—9:38
The sun was up and I was ready to bring the Millennium Falcon home.
So was Chewie.
We crossed the finish line in 2:11:32 at a 10:02 overall pace. I was 147 of 1,887 women in my age group, 666 among all 10,054 women, and 2,370 of 18,182 finishers overall.
I was really pleased with that all things considered. We made about 5 minutes of stops, so ran roughly 2:06:32 at a 9:40 overall pace. That's actually faster than my last half-marathon. I ran 2:09:32 at the GORE-TEX Philadelphia Half Marathon in November, and that was without stopping for photos.
So no, it wasn't the PR that I wanted, but it was a solid effort on some excruciatingly tired legs.
And the Dark Vader medal was ours…
Star Wars Half Marathon: Post-Race
We hung around the finish line area to take some more character photos. The lines weren't too long since we had finished at the front of the pack.
BB-8? Yes, please!
Captain Phasma? For sure! She said to us: "I have some advice if you're thinking of joining the Resistance… Don't." Not gonna lie, I kind of geeked out. Her voice modulator sounded exactly like Captain Phasma.
Storm Troopers? Can't get enough!
We even ran away from a Rathtar.
Finally, we boarded the bus back to our hotel. We got to ride through the back roads of Disney's Animal Kingdom since the main roads were still closed while the race was going on. We could see the sea of runners still coming into ESPN.
One of my favorite parts of any runDisney Half Marathon is the post-race buffet I always book. This time we ate at Boma-Flavors of Africa at Disney's Animal Kingdom Lodge. I've never eaten there before. Whoa! I ate so many kinds of eggs and breakfast meats, I can't even count.
The night before we enjoyed Jiko-The Cooking Place for the first time. It was excellent. It's definitely on my list for a repeat visit.
Disney's Animal Kingdom Lodge
Having stayed both on and off property during Walt Disney World visits, I love staying on property for runDisney races because of the complimentary runner transportation to all the races and race weekend events.
This trip, I stayed at Disney's Animal Kingdom Lodge for the fourth time. It's is a bit out of the way compared to the other hotel properties, but I've come to really enjoy a few aspects of the hotel.
First, seeing African animals like giraffes, zebras, gazelles, okapis, hogs, ostrich, and other species from the hotel, and even your hotel room, never gets old. It's incredibly calming and awe-inspiring to wake up to a giraffe nibbling leaves right outside your window.
Plus, if you're traveling with kids they will be completely blown away. My niece and nephew have visited the hotel with me a few times between the ages of 3 and 9, and they've been wowed every time. The animals are a show-stopper.
Second, the pool is lovely. No, it's not my favorite pool on the Disney property. The Disney Yacht & Beach Club Resorts have that honor. But it has something Yacht & Beach don't: privacy. The Disney Yacht & Beach Club Resorts pool sits right alongside the public path around the BoardWalk area. So you are swimming for all of the world to see. But the Animal Kingdom Lodge pool is tucked within the hotel behind a screen of tropical foliage. It makes for a nice, relaxing day.
Third, the hotel is very close to the ESPN Wide World of Sports. It makes getting to and from the Expo a breeze; much easier than the hotels on the monorail and Magic Kingdom loop. Official event buses take guests from each Walt Disney World Hotel to the Expo. It's a very quick ride from Animal Kingdom, versus many of the other hotels. Plus, the Star Wars runDisney Kids Races are also held at the ESPN complex. My niece and nephew ran, so it took no time for us to get there and get back on the official race transportation.
Finally, many of the rooms have a double bed and two bunks beds. It's perfect for my family with my niece and nephew. They kept asking if they were going to get a bunk bed room, they were so excited. This time around we had adjoining rooms for the six people in my family—one bunk bed room and one regular double bed room. Perfect.
Star Wars Half Marathon: The Take Away
I absolutely loved the Inaugural Star Wars Half Marathon—The Dark Side. No, I didn't run the PR I wanted, but I ended up having fun with all the characters on course, as my photos attest.
Yes, there are lonely stretches of road along the highway, but there's really no getting around that at Walt Disney World. The theme parks are far away from each other and the only way to get from point A to point B between them are the highways.
Music filled the air the whole time, characters packed the parks, and I felt thoroughly transported to the world of Star Wars.
I attended the Star Wars Half Marathon as a media guest of runDisney. As always, all opinions are purely my own. I really do believe in being honest about my experiences. Seriously. Just read my Walt Disney World 10K Race Report and Walt Disney World 5K Race Report. For more information read my Disclosure Policy.
Star Wars Half Marathon—The Dark Side Slideshow
Save
Save
Save
Save
Save
Save
Save