The United Airlines NYC Half 2015 is ready to take a bite out of the Big Apple on Sunday, March 15 with 20,000 runners and 2,200 volunteers. I'll be at the start as one of the race announcers, ready to send you on your way to a 13.1-mile tour of New York City—from Central Park through Times Square and along the Hudson River to a fabulous finish in the Financial District on Wall Street.
Are you running? Watching? Cheering someone on? Here's your guide to the course, how to watch the broadcast, and how to track runners at the city's marquee half-marathon, which kicks of the NYRR 5 Borough Series.
The Course
The United Airlines NYC Half course is a tourist's dream, showcasing a great diversity of the landscape that Manhattan offers. You'll see Central Park, a peak at Harlem, Times Square, much of the West Side and Hudson River waterfront, Battery Park, and Financial District, including the historic South Street Seaport just steps away. You'll take in tree-lined parkland, open skies over the river, skyscrapers, and glaring lights—a bit of it all.
Honestly, I love this course. Even as a New Yorker, I get chills running through Times Square. Do you know how rarely Times Square gets shut down? Just twice a year: for the ball drop on New Year's Eve and for the United Airlines NYC Half. That's it. It's a big deal. Huge. As big as all those Jumbotrons you'll see.
What can you expect along the way? A quiet 6-mile tour of Central Park and 110th street. Once you exit the park and start heading for Times Square, you'll find 13 on-course entertainment zones, roughly every half mile, including seven bands and six DJ's.
I've had a few runners ask me about the terrain. I've been a New Yorker for close to 15 years and have been running the city for 10 of them. I know every dip and turn along the way. I last ran this event in 2012 and have worked it as a broadcaster and announcer ever since.
The bad news: Central Park is no joke. Even the pros I've interviewed talk about how challenging the park's rolling hills can be.
The good news: You get Central Park out of the way first. And it's incredibly beautiful! Central Park is one of my favorite places on the planet. Then it's all downhill–quite literally—from there. The last seven miles are a drop and then plateau to sea level at Water Street.
Here's the elevation chart:
How To Watch
If you're not running, the United Airlines NYC Half will be a great race to watch with a profession field that includes 70 elite athletes from 11 countries in the women's field and 13 countries in the men's competition, including 12 Olympians, two Olympic medalists, two IAAF World Championship medalists, and nine national record-holders.
Meb Keflezighi, Desiree Davila, Molly Huddle and Dathan Ritzenhein are just a few of the Americans gunning for the $100,000 prize purse. They'll face off against some of the fastest runners in the world including Boston Marathon winner Wesley Korir, Olympic medalist Sally Kipyego, and Boston Marathon runner-up Buzunesh Deba.
Locally
Watch live coverage on ABC7 from 7:00 to 9:00 a.m. EDT.
Nationally
Watch on ESPN3 via Watch ESPN from 7:00 to 10:30 a.m. EDT on computers, tablets, smartphones, Amazon Fire TV and Fire TV Stick, Apple TV, Chromecast, Roku, Xbox 360 and Xbox One for viewers with video or internet subscriptions.
Internationally
Check your local listings to watch from 7:30 to 9:00 a.m. EDT via a variety of global broadcast partners. The broadcast will reach 200 territories and 320 million households internationally.
Online
Watch live streaming on WatchABC from 7:00 to 9:00 a.m. EDT and at 7online.com from 7:00 to 10:30 a.m. EDT.
How To Track Your Runner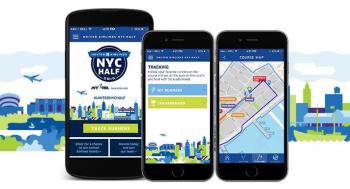 Have someone—or 10— you want to follow?
Download the United Airlines NYC Half Mobile App Powered by Tata Consultancy Services free from the Apple App Store and Google Play. Live track up to 10 runners, with splits at the start, every five kilometers, and at the finish. You'll also find answers to race FAQs and stats, a United Airlines sweepstakes, and a course map marked with cheer and entertainment zones, elevation, and more.
Runner tracking and live unofficial results will also be available at liveresults.nyrr.org.
See you at the start of the United Airlines NYC Half 2015, runners!