Wondering what to buy the runner in your life? The "Run, Karla, Run!" holiday gift guide is here to help. Here are some gift ideas at every price point from $10 to $150 — all of them wear tested by yours truly with the "Run, Karla, Run!" stamp of approval.
Under $10
Hippie Runner 4Head Headbands – $5
When Hippie Runner says "No Slide/No Sweat," they're not kidding. These headbands promise to stay in place and keep the sweat out of your eyes while running. Guess what? They really do. I wear a Hipper Runner 4Head Headband just about every time I race and nary a drop gets in my way. Made of nylon spandex, the headbands stretch to fit any head and come in a wide array of colors and patterns — way cuter than sweatbands of yore.
Under $25
Books are always a great gift choice, and a new slew of running reads hit the bookshelves this fall.
Memoir : Running Ransom Road by Caleb Daniloff – $25
Daniloff, a recovering alcoholic, set out to run a marathon in every city where he once lived. Running marathons in Boston, New York, Vermont and Moscow, Daniloff examines how running helped him get sober while revisiting his past life. It's a tale of "ruin, running, and redemption." Publisher's weekly called it "A vital, honest, and arresting account of one flawed runner's emotional and spiritual renewal with each step toward the finish line." Sure to inspire many a runner.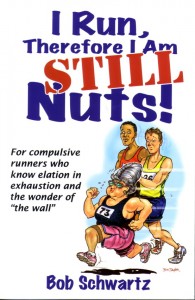 Humor: I Run, There I Am Still Nuts! by Bob Schwartz – $16.95
Schwartz milks the craziness and obsessiveness of runners in this follow-up to his first tome, "I Run, Therefore I Am—Nuts!" His 43 stories touch on subjects many runners can relate to, such as suffering from RWIA, or running watch information addiction, and embracing age-graded running calculators. A great gift for runners who like to laugh — at themselves.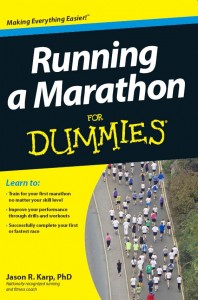 How To: Running a Marathon For Dummies by Jason R. Karp, PhD – $17.99
New to bookshelves in November, Karp's guide gives you everything marathon under the sun, including exercises, training programs, tips and more. The book is designed for everyone — the newbies looking to run their first marathon and the seasoned veterans looking to run their fastest. The book's 20 chapters cover the basics of marathon training, creating your own training plan, how to stay healthy or get healthy when you're not, race strategies and tips, common mistakes to avoid, and much more. From A to Z, Karp covers it.
Under $50
Yaktrax Run – $40
Turn any pair of running shoes into a snow stopper. With Yaktrax Run, packed snow and ice is no longer an impediment to winter training. Just pop Yaktrax Run onto your existing running shoes, and you can run naturally in even the iciest conditions. This is a great gift for a runner who sometimes needs a little winter traction, but doesn't want to invest in snowshoes. I tested Yaktrax Run in a Canadian snowstorm with fantastic results. They will be traveling with me to winter destinations from now on.
Under $75
Sony W Series Walkman, Meb Keflezighi Special Edition – $69.99
You can work out with America's most decorated marathoner, Olympic silver medalist and ING New York City Marathon champion Meb Keflezighi. This 2GB MP3 player comes pre-loaded with audio tips from the marathon man himself. The Sony W Series Walkman is a fantastic music solution for the runner who wants to jog unencumbered. No armbands, clunky device or wires to deal with. The player sits inside the headphones with simple controls, is water-resistant, and charges quickly in three minutes for 60 minutes of runtime. Fully charged, the device runs for eight hours. I love it for treadmill runs — the earbuds, which come in three sizes, tune out the noisy sounds of the gym, leaving me alone with my music. Best of all, a portion of the sales go to the MEB FOUNDATION, which aims to help kids lead healthy, balanced lives.
Under $100
lucy Activewear Fast As Lightning Half Zip – $89
lucy Activewear's Holiday 2012 running line aims to keep runners warm and stylish this winter. The Fast As Lightning Half Zip doubles as sun protective clothing with a UPF30 rating (that's short for Ultraviolet Protection Factor). But more than that, the polyester and lycra terry knit is silky soft and space-dyed for a cool multi-color look. Factor in the color contrast seams and you've got one good-looking running pullover. And just to make sure you look as good going as you do coming, the back features a mesh panel that helps you stay cool and look cool. Moisture-wicking? Check. Thumbholes? Check. Back pocket? Check. The Fast As Lightning Half Zip has it all. Wear it, wash it and wear it again and again. I certainly have. After a month of constant use, it still looks and feels brand new. Anything from lucy Activewear is a perfect holiday gift idea for the running lady in your life.
Under $150
MOTOACTV – $149.99
For the gadget driven runner, MOTOACTV has it all. It's a GPS tracker and smart MP3 player all in one simple device. Choose from 8GB or 16GB, track your runs (and other sports activities from golf to cycling) with Accusense GPS, create smart playlists filled with the music that motivates you most (MOTOACTV keeps track), monitor your heart rate, and set alerts and updates, all with the tap of a finger on the touch screen. You can even check your texts and take incoming calls with the MOTOACTV Android app or get weather updates with the MOTOACTV Weather app. This is a next generation device for the runner on the go. I take it with me on all my outdoor runs and nerdily pore over my running and music data online, which syncs wirelessly, of course.
Karla Bruning is host of On The Run, New York Road Runner's weekly lifestyle web show about running. She has completed five marathons, two triathlons and trains with the New York Harriers. Follow Karla's "Notes From a Running Nerd" at RunKarlaRun.com, Facebook and Twitter@KBruning.