The Philadelphia Marathon is a big city race with a small town feel. Unlike more crowded marathons like New York and Chicago, runners wander into corrals just 15 minutes or so before the race's 7 a.m. start. The vibe is relaxed and unhurried. There's no closing time given for the baggage trucks or corrals, for that matter. It feels like the city simply wants you to relax and have a good time. Philadelphia Mayor Michael Nutter is at the start and the finish passing out high-fives to runners, setting the tone for a friendly, flat and fast course. With 11,617 finishers, the 2012 race on November 18 was the largest in the city's history. Another 10,921 runners finished the half-marathon.
The Philadelphia Marathon was my fifth marathon. I set out to nab a big personal best time after a rocky training season. The race's motto is "Best Time of Your Life." Turns out, it's true.
The Starting Area
My husband, who was also running, and I arrived at the start about 45 minutes before gun time. We shared a cab with two other runners from our hotel, both refugees from the canceled ING New York City Marathon. The Philadelphia Marathon added 3,000 extra spots just for registrants of the NYC Marathon, complete with their own starting corrals.
We found our baggage truck easily and were happy at the plentiful number of port-a-potties. We weren't able to find pre-race water easily. I'd seen it on the starting area map near the gear check, but somehow we missed it on our walk through baggage, to the port-a-johns and on to our corrals. While working our way to the start, we bumped into two of our teammates from our running club in New York. Seeing people you know amongst a crowd of some 25,000 runners only added to the cheery small-town feel. We all wished each other well and headed off into our respective corrals, which started the race about every 5 minutes.
Race Plan
I lined up with the 4:15 pace team. I'd trained for that pace, but was dubious about my chances of executing it. I'd been sick twice in the last three weeks and missed a good bit of training. But I wanted to give it a shot, even if it meant potentially hitting the dreaded wall later in the race. I had the goal of finishing in 4:30 in my head and hoped I could hit that no matter what.
As my corral inched forward waiting for our start, I thought of the months before that brought me to this point. I'd initially set out to run the Philadelphia Marathon as the cap in a $10,000 fundraising effort for my cousin Laura, who was battling a rare cancer called clear-cell sarcoma. But one month and $4,200 in, Laura lost the battle. I dedicated the race to her. As I waited for the start, I said a prayer for Laura and her family. All the pain of her death came flooding back to me and I started to cry. I was that runner, standing in the corral sobbing. Kindly, not too many people stared, likely absorbed in their own pre-marathon thoughts. I pulled myself together and decided to channel all that pain into the race.
The Start
I heard the theme song from "Rocky" blare over the loudspeakers and runners cheered. We were standing just a few paces from the famous "Rocky steps" in front of the Philadelphia Museum of Art, next to which stands a statue of the most famous faux-Philadelphian.
It was a fitting start to the race. My corral toed up to the starting line, buglers from Valley Forge played a short salute and we were off.
The Course
The Philadelphia Marathon course is mostly flat with a few rolling hills between miles 7 and 10. The race takes runners on a foot tour of the city's beautiful historic buildings, narrow spectator-lined streets, and along the Schuylkill River. The course starts and finishes near the Philadelphia Museum of Art along Benjamin Franklin Parkway and tours Center City for the first six miles, passing landmarks like South Street and City Hall. It then takes runners across the Schuylkill River into University City, where Drexel University students cheer loudly. The next few miles gently undulate as runners wind their way through Fairmount Park and back to the Philadelphia Museum of Art for the halfway point. At mile 13, half-marathoners break right to the finish and marathoners break left for the second half of the course—a 13 mile out-and-back along Kelly Drive and the Schuylkill River, past the famous Boathouse Row, up to Main Street Manayunk and back to the Museum for the finish.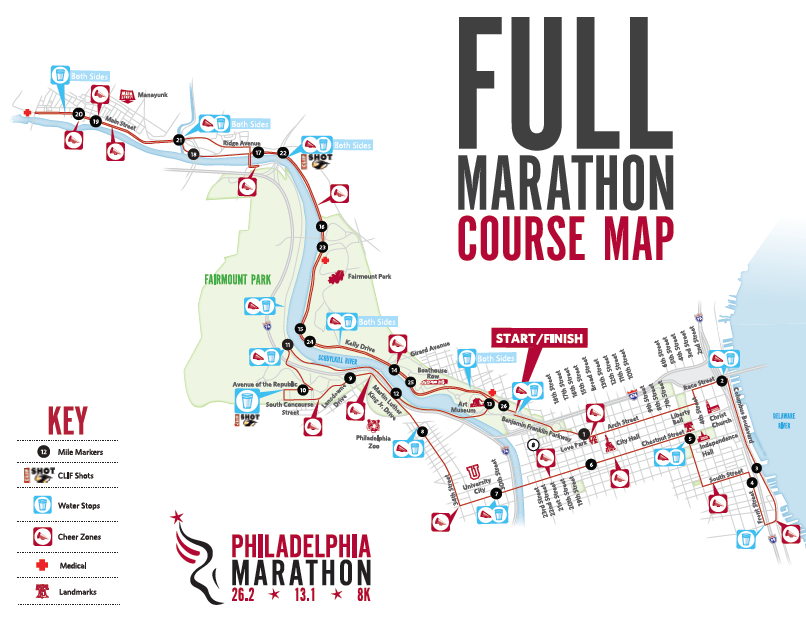 Hydrations stations sit roughly every two miles, with a few more in the back end of the course. It felt about right for the first half, but toward the end I could have used just one or two more water stops.
Center City was packed with spectators, especially along the nearly two-mile stretch from miles 5 to 7 along Chestnut Street. The narrow street and thick crowds made it one of my favorite parts of the course. The loud screams of college students from mile 7 to 8 helped push us toward the half.
One of the funniest moments was a cheering squad near mile 11 dressed in outlandish costumes that made them look like the Village People on acid. My favorite? A disco unicorn. They played loud music and cheered exuberantly. I almost wanted to stop running and join them; it looked like they were having so much fun.
Karla's Race
But I was actually having fun too. I ran with the 4:15 pace group, which was ready to mutiny against the pace team leader who set out at an alarmingly fast speed. At 4:15, we were targeting an even 9:44 pace per mile. Our first mile clocked in at 9:11 and subsequent miles flailed all over the place from as fast as 9:05 to as slow as 10:06. It wasn't exactly ideal, and many of the runners around me were grumbling.
But the pace leader pulled us through the halfway mark in 2:05:52 at a 9:36 average pace, which put us on target for a 4:11:44 finish. I figured she was just trying to put time in the bank for a second-half fade. So I stuck with them. Hanging with the pace team allowed me to go into autopilot for those first just-get-them-done miles. Though some of the faster miles, like the 9:05 mile 10 had me breathing more heavily than I would have liked to. That's faster than my half-marathon pace!
But I cruised through the first half of the course with ease. The spectators were great and helped a ton. As with every marathon, I wore my name on my shirt and was glad I did. Hearing "Go Karla!" goes a long way.
I'd mentally steeled myself for the hills between miles 7 and 10 and was pleased to find them none too threatening, after training on Central Park's unforgiving undulations.
Then I'd mentally steeled myself for the second half out-and-back along the Schuylkill River. I'd heard from runners of years past that there aren't nearly as many spectators. And they were right. It was much quieter.
But I love an out-and-back for one reason: as you're heading out, you see the faster runners heading back. Looking for teammates and other runners that I know gave me something to do for a few miles.
I ran along the inside edge of the course and scanned the runners on the other side. I managed to find a good number of teammates and shout their names as they inched toward mile 25, 24 or 23 and I inched toward mile 14, 15, or 16 respectively. I even found my husband who was on the other side scanning for me. We high-fived each other as we passed by, and I was thrilled to see that he was still running with the 3:05 pace group just a few miles from the finish. He was gunning for a personal record and a Boston Qualifier. He nailed both of them, finishing in 3:03:36.
At mile 16 I began counting down the miles in my head. I was also counting down the miles to the turn-around, which I knew sat just before mile 20.
It was there that things fell apart.
The pace group slowly drifted in front of me after the mile 18 water station, but I'd managed to hang just behind them, and rolled into mile 20 still on pace for a 4:14 finish.
But then it happened. A cramp shot through my left quad. I let out an audible yelp and pulled to the side of the road. I found something to lean on and stretched the cramp out.
It was the first time in five marathons I've ever had to stop, and the first time I've cramped like that. After I thought I had it under control, I resumed running at my 9:45 pace. The break had given my lungs a little extra breather and they still felt great. But before I reached mile 21, the cramp returned and I had to stop again. Mile 21 was, by far, my slowest mile of the race, clocking in at 11:53.
When I started running again, I realized that my leg wasn't going to let me keep running that 9:45. When I pushed, the cramp flared up. I knew my bid to break 4:15 was over.
But honestly, I wasn't heartbroken. Not losing a goal isn't worthy of heartbreak. Losing Laura was heartbreak. There's nothing like death to put life in perspective.
And I was still alive in the race. I still had a half hour in the bank on my personal record, so I shifted goals and aimed to come in under 4:30.
Those last six miles were painful, but they were nothing compared to the pain of true loss. With that perspective in mind, I managed to actually enjoy them. I jogged slowly and stretched my leg whenever it started screaming again, slowing to a walk and kneading my knuckles deep into the quad muscle. Then I'd start jogging again.
My average pace per mile between jogs and breaks fluctuated between 11:00 and 11:45 depending on how much I walked. My lungs felt great with the easier pace. So I thanked people who cheered my name as I passed and got a few high fives along the way. I chatted with a few other struggling runners and offered them encouragement.
One runner who was hobbling along the side of the course said to me, "This sounded like such a good idea."
"Don't worry," I said. "It was. Just a few more miles. You can do it! Just keep going." And then jogged along my merry way.
The Finish
The crowds thickened once more as the finish neared and somewhere along the home stretch I spotted my husband and two other friends. They screamed my name and I stopped for a picture to commemorate my triumph over loss and over pain, both large and small.
As I crossed the finish line, I got a high five from Philadelphia Mayor Michael Nutter. I looked at my watch: official time of 4:28:06. I managed to PR by almost 17 minutes.
As I slowed to a walk, I thought of Laura once more. She'd been with me all throughout training and all throughout the course. I started crying again, now that it was all over—this journey I'd set out on to help her. But that's the funny thing about running for someone else. You set out to do it for them, and in the end, they are the ones who help you. Running for her and her family helped get me through training and get me through the race. I think I trained as hard as I did, set the PRs that I did and got as fast as I did because I was channeling my heartbreak into running. Laura helped me turn the pain into something positive.
I'm sure the people who saw me crying, like the volunteer who wrapped a heat sheet around me or the one who placed the medal around my neck, saw plenty of marathoners in tears that day. It's an emotional endeavor. So many people set out to run for so many reasons—for themselves, for their kids, for a loved one, for a cause. In its personal triumph, the race really is a metaphor for the triumph of the human spirit. Perhaps that's why I keep coming back to the marathon time and time again.
Philadelphia Marathon Takeaway
The Philadelphia Marathon was truly a delightful and well-executed race. From picking up bibs at the expo to picking up bags at the finish, everything ran smoothly and with ease. The course was scenic, flat and fun. Spectators were loud, if not always plentiful. And within 10 minutes of crossing the finish I had a heat sheet, medal, food and my bag. It doesn't get any better than that. I'd certainly consider running this race again.
But now it's time to look ahead. The next marathon is one for celebration. I'm running the Walt Disney World Marathon with my husband on January 13, 2013. We're going to do it for fun and for ourselves—our first race we'll run side-by-side as husband and wife.
Congratulations to everyone who ran the Philadelphia Marathon or any other race this year. We did it!