If you keep on believing, the dreams that you wish will come true.
Cinderella sang those words and I took them to heart at Disney's Princess Half Marathon in Walt Disney World in Florida, which I attended as a guest of runDisney.
I channeled my inner Cinderella and believed that I could break my half-marathon personal record.
Disney races aren't for PR's many people say. Just have fun, they tell you.
But on Sunday, Feb. 26, I learned that it's possible to PR and have fun too while running Disney.
Of course, it helps to have Prince Charming by your side.
Running in Costume: Cinderella and Prince Charming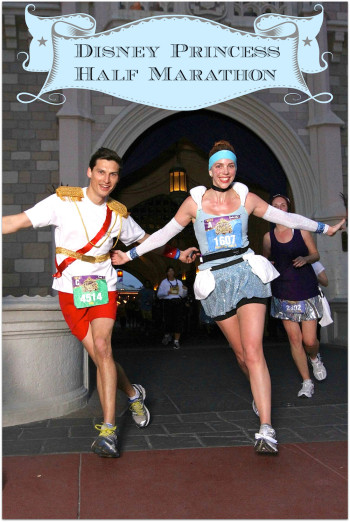 For starters, I feel compelled to confess: I ran in costume. Not just that, I cajoled my fiancé, Phil, to run in costume with me—as Cinderella and Prince Charming.
Cinderella has long been my favorite princess, ever since I saw clips of the film on my Fisher Price Movie Viewer Theater back in the early 1980s. I even named my dog Cinderella. What better character to summon for a half-marathon than a gal who knows how to put her head down and work hard?
I found that once you put on a costume and give in to the Disney spirit, it's inevitable that you're going to have a good time, no matter how painful the running itself may be. By going the extra mile of making your own team costume, you inadvertently get other runners to cheer for you.
The Princess Half Marathon Start: Outside Epcot
Phil and I woke at 3:30 a.m. and began our transformation from mere mortals to fairy tale runners. Dressed to impress, we boarded a bus from our hotel at Disney's Animal Kingdom Lodge to the race start area near Epcot. When we sat on the bus, we were greeted with a chorus of "Awwwwws." I knew it was going to be a good day.
We made our way through the starting village and into the corrals. I had a bib for corral A, but the Princess Half Marathon is a women's focused race, with just 1,100 men and nearly 16,000 women finishing the race; all the men are banished to corral C and beyond. As a much faster runner with a half-marathon PR of 1:26, Phil agreed to pace me to a PR: our goal was 2:05, roughly a 9:30 per mile pace. So I had to drop to corral C to run with him. Runners can move down corrals, but not up.
The first two groups of runners went off to fireworks at the wave of the Fairy Godmother's magic wand. At about 6 a.m. it was our turn. The course took runners along the road from Epcot to Magic Kingdom, through Tomorrowland, Fantasyland, Cinderella Castle, and Frontierland before heading back to Epcot through Future World and past Spaceship Earth to the finish.
Miles 1 to 5: Epcot to Magic Kingdom
We spent the first half of the race and then some weaving around slower runners in front of us. There were times when it was difficult, especially when the course narrowed, and it did make for some erratic splits. In the first 5 miles, our splits ranged from 9:55 to 8:47 per mile as we tried to make up for lost time.
But in the end, I didn't mind. It was a mental boost to feel like I was surging through a sea of runners. In those early miles, my brain was largely occupied with finding the shortest route through openings between runners instead of thinking too much about the race itself.
We tried to be as polite as possible as we weaved. Being dressed as Cinderella and Prince Charming certainly helped. So many runners gave us shout-outs and compliments as we passed by. It actually helped me keep going. We always thanked them with a wave.
At Mile 5, we reached Disney's Contemporary Resort, where my sister and her family were staying. She spotted us right away as we passed by and greeted us with a "Run, Karla, Run!" sign. As usual, seeing her was a boost—she's long been one of my best supporters, cheering me on at the 2009 Bank of America Chicago Marathon and 2010 ING New York City Marathon.
Mile 6: Magic Kingdom
Just after seeing my sister, we reached Magic Kingdom.
"Soak it up!" I heard a runner behind me say. "This is why we do this race."
We entered the park through Main Street USA, which was lined with cheering spectators. Cinderella Castle loomed ahead, so Phil and I pulled to the side of the course to take a photo. Then we headed off to Tomorrowland, Fantasyland and through Cinderella Castle.
This was the highlight of my run. No, not charging through the castle itself. But the real Cinderella and Prince Charming were posing for photos with runners in front of the castle. They paused to give us big waves and cheers as we ran by. Our costumes earned us a shout out. Of course, I know that's not the real Cinderella, that there is in fact no real Cinderella. But for a moment, the 5-year-old in me was simply giddy.
I turned to Phil and smiled.
"Now that makes me happy," I panted. "That will last me a while."
It definitely put some pep in my step. I paused for a photo jumping in the air in front of Cinderella Castle, and then we were on our way again.
Not long after, Princess Aurora and Prince Philip of Sleeping Beauty spotted us in our costumes and waved to us.
"They saw us too!" Phil said. It was the motivation I needed to keep plugging. The end of the park was near, and there was still a lot of race to go. We exited the Magic Kingdom and were back on the road.
Miles 7 to 10: Magic Kingdom to Epcot Center Drive
From miles 7 to 10 we finally managed to settle into a steady pace—hitting the mile markers in 9:11, 9:13 and 9:04.
Phil was an awesome pacer. He told me when we needed to ease off, carved our path through runners, called out our splits at the mile markers, told me encouraging phrases and other things to either focus me or take my mind off the race. We passed a hot-air balloon and he distracted me with memories of a trip I'd made to Tanzania a few years ago.
"Look at that hot-air balloon," he said. "Remember floating over the Serengeti in a hot-air balloon. You can see the herds of buffalo and wildebeests running below you."
My mind took me back there, and for a moment I forgot that I was sucking some serious wind.
The entertainment along the course was amazing for that. Of the three Disney half marathons I've run—Tinker Bell, Wine & Dine, and now Princess—this had the most characters and entertainment.
Other entertainment included music, DJs, a gospel choir, a barbershop quartet, marching bands, drum corps, stilt walkers, acrobats on a trampoline, tons of Disney staff handing out high-fives, and of course, lots of Disney characters. There were plenty of spectators, especially in the parks, and even an impressive amount along the roads.
Miles 11 to 13: The Highway to Epcot
The course was pancake flat for the most part, with negligible dips and bumps in the first 10 miles.
But then we hit them—a series of highway ramps that I wasn't prepared for. My hill training the last few months had been non-existent, and my legs and lungs just weren't up for the task. There were three big climbs and I lost about a minute on each one, as my pace ballooned to 9:58, 10:14 and 10:23 for the last three miles.
But I still had plenty of time in the bank on my PR. After the third ramp, we chugged into Epcot and ran past Spaceship Earth, the park's iconic sphere. I knew the finish was just a few minutes away. I was hurting, but Phil kept cheering me on.
We found my sister shortly before the finish line.
"I did it!" I yelled. I sounded like my 5-year-old nephew who'd won his first race just the day before. "I'm gonna PR!"
The crowd around my sister cheered as Phil and I paused for one last photo. Then we glided across the finish, Phil with camera in hand. I even got a low-five, or rather four, from Mickey Mouse.
Mile 13.1: The Finish
We did it. We ran 2:05:15, shaving 2 minutes off my previous half-marathon best—in costume and with a few photo breaks, no less. I was ecstatic.
We got our Princess medals and Coast to Coast Race Challenge medals for running a half-marathon at both Disneyland and Disney World in the same calendar year. We ran the inaugural Tinker Bell Half Marathon in January.
I was delightfully surprised by the post-race snacks, which we received in a cute purple box. "Congratulations Princess! Your 13.1 mile royal quest was an inspiration to the entire kingdom," the box read.
Rather than the usual boring bagel and banana, we got edamame, hummus, crackers, fruit snacks, Luna bars and trail mix. Yum. We found my sister, took some photos, and headed off for a celebratory day at Magic Kingdom.
Now that I've set a personal best at Disney, I have to disagree with all the folks who say Disney races aren't for personal records. Sure, if you're only going to do one Disney race in your life, you definitely want to stop and take pictures with all the characters.
Some of the characters I spotted were Prince Eric and Ariel from The Little Mermaid; Tarzan; Aladdin; Captain Jack Sparrow from Pirates of the Caribbean; Sarge, Jessie and Buzz Lightyear from Toy Story; Lilo from Lilo and Stitch; Cinderella and Prince Charming; Tiana and Naveen from The Princess and the Frog; Princess Aurora, Prince Phillip, Flora, Fauna and Merryweather from Sleeping Beauty; Belle, the Beast and Gaston from Beauty and the Beast; Chip and Dale; an awesome photo opp with a cadre of Disney villains including Cruella De Vil from 101 Dalmatians, the Queen of Hearts from Alice in Wonderland, Snow White's Wicked Queen and Cinderella's stepmother and stepsisters; Pocahontas and Captain John Smith; Mulan; Rapunzel, and, of course, Mickey Mouse. At the Fit for a Princess Expo in the days before the race, runDisney had a full list of all the characters along the course, so you could plan ahead where you wanted to stop for photos.
But if you find yourself running your second or third Disney race like I was, the atmosphere is perfect for running a PR. All the entertainment and characters motivate you, both the Disneyland and Walt Disney World courses are mostly flat, and the weather can be great. And running in costume? I really think it helped me reach my goal.
Disney's Princess Half Marathon was a personal triumph, and, in true Disney fashion, a dream come true…
Once upon a time, there was a princess who loved to run. She ran as fast as she could through the Magic Kingdom, past cheering hordes, past evil villains, with her Prince Charming by her side. Together, they slayed a large dragon—a dragon known as "Half Marathon"—and they lived happily ever after.
The End.
As a member of the running media, runDisney provided me with complimentary race entry, hotel, park tickets, and some meals (like the Pasta in the Park Party) for Disney's Princess Half Marathon. But as always, all opinions are purely my own. I really do believe in being honest about my experiences and Disney is no exception. For more information read my Disclosure Policy