What happens when two Disney-loving sisters take on the Disney Princess 5K together? Costumes, cold-weather, and lots of laughs.
My sister ran her first 5K with me at the 2012 Disney Princess Tangled 5K. Three years later, we headed back to the race weekend to tackle her first half-marathon. I attended the race as a media guest of runDisney to write a story for Shape.com.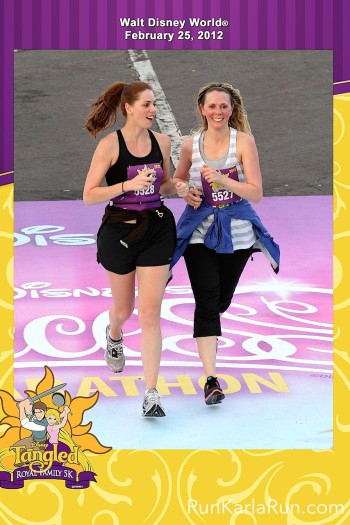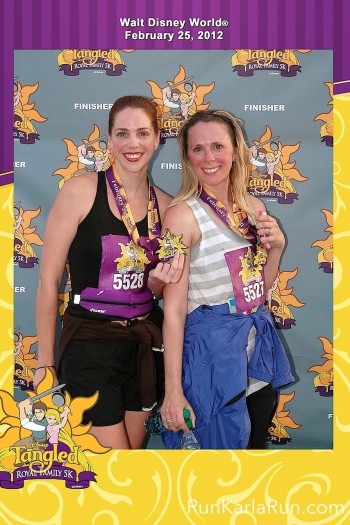 But before we laced up for 13.1, we made our triumphant return to the Disney Princess 5K—this time clad in costume.
Running Costumes
We stayed up way too late the night before the race, huddled in my hotel room at Disney's Animal Kingdom Lodge, finishing our running costumes. My sister was staying at the Walt Disney World Dolphin, but decided to have a sleepover so we could head to the race together.
For the half-marathon, we planned to run as Disney's most famous sisters—Frozen's Elsa and Anna.
So for the 5K, we chose to run as Disney's most infamous sisters—Cinderella's wicked stepsisters, Anastasia and Drizella Tremaine.
We borrowed the idea wholesale from the ladies of Sparkle Athletic, who kindly geared us out for the occasion, giving us Sparkle Running Skirts
, Sparkle Visors
, Sparkle Sleeves, and Sparkle Headbands.
We paired our sparkle accoutrements with tanks I already owned and shoulder poufs and skirt peplums cut from odds and ends we found. My green and blue poufs came from cut-up shirts and her magenta came from a cloth bag. Then we decked ourselves out in full hair and makeup. Totally worth waking up extra early!
Race Morning
Befitting the Frozen theme of the race, the morning was c-c-c-c-cold! It was 33 degrees! And we were wearing tank tops!
Just goes to show that you can never count on Walt Disney World weather. I've now run races there from 35 to 85 degrees in January and February.
But we were committed to our costumes and our characters. We threw on the only leggings we had with us for a little extra warmth, our gloves, and then braced ourselves for the cold.
The complimentary runner bus from Animal Kingdom Lodge to the race was a fast and easy. We got there on the late end hoping not to spend too much time waiting around freezing.
We played mind-games with ourselves, pretending we were on the beach in Hawaii, taking turns talking about the sun beating down on our skin. It worked for about 5 minutes.
Many sane runners who were dressed appropriately stopped to comment on how cold we must be.
"Nope," my sister said.
"We're on a beach in Hawaii," I explained. People laughed at us like we were crazy. We kind of were.
We decided we'd try to stay in stepsister character, but we kept forgetting—apologizing when we accidentally bumped into someone or saying thank you when they complimented our costumes.
Then we'd chastise ourselves and go back to pretending rudeness.
We answered a compliment of "nice costume" with a loud "I know!"
An accidental brush of the shoulder prompted an "Outta my way!"
We tried to do it so obnoxiously that people knew we were in character and not actually terrible people.
One of my favorite things about this race? I finally met blogging buddy Kellie at Will Run For Ears and Nicole at Pink Elephant On Parade. We jumped up and down and screamed a lot. Partly as a way to stay warm, but also because I was so excited to finally meet Kellie.
Finally, we made our way into our corral and waited for the race to start.
This is another one of my favorite things about runDisney races: meeting folks in the corrals. Without fail, I always end up chatting with the runners around me. Everyone is always in such a jovial mood, excited to run, and the like. This time around, I met my new corral BFFs: Dave, Lesa, and Tara.
If you follow The Marathon Show on Facebook, no doubt you have seen Dave's energetic race shots. This guy is everywhere. Not only did we realize we "virtually" knew each other, but we went to rival high schools in the Chicago 'burbs just 20 minutes apart.
We had so much fun laughing and joking around in Corral A, that we made a pact to find each other in the corral again for the 10K.
Frozen Disney Princess 5K
Finally, the fireworks sounded and we were off. The course took us on some Disney parks back roads and into Epcot through the World Showcase, to the front of the park and out past Spaceship Earth.
We were so cold that we decided not to stop for photos along the course in favor of keeping moving. We made one exception when we saw a very short line for Pluto. But otherwise we just jogged, chatted, and enjoyed the scenery of Epcot before dawn.
And, of course, we tried to make bratty faces for the cameras when we remembered. For the Episodes fans out there, Myra was the inspiration for my character.
And sometimes we totally forgot, and were our usual giddy selves.
Before long, we'd almost warmed up and were staring down the finish line. Little did we know, we were matching each other stride for stride.
Don't worry, we didn't get too serious. The finish gave us one last chance to look really ridiculous.
Needless to say, we had a bit too much fun. We really liked playing a pair of villains.
A photo posted by Karla Bruning (@runkarlarun) on
In the end, we were all smiles. It was really special to run this race with my sis in 2012 and 2015 on the way to her first half-marathon. After all, celebrating the women in your life is what the Disney Princess Half Marathon Weekend is all about.
I attended the Disney Princess Half Marathon as a media guest of runDisney, writing a story for Shape.com. But as always, all opinions are purely my own. I really do believe in being honest about my experiences. Seriously. For more information read my Disclosure Policy.
[jetpack_subscription_form title="Join Karla's Running Adventures" subscribe_text="Get registration reminders, race reports, reviews and more straight to your inbox!" subscribe_button="Sign Me Up"]