The Cinderella pink dress might be my favorite running costume I've put together.
After crafting a Cinderella ball gown for the 2012 Disney Princess Half Marathon and Cinderella in rags running costume for the 2013 Walt Disney World Marathon, I was excited to dig into the deep cuts for a new take on a Cinderella running costume for the 2014 Walt Disney World Half Marathon.
The pretty in pink "dress for Cinderelly," as the mice sing, sounded perfect to me. I've always loved the dress the mice made with love, crafted from Cinderella's mother's gown. It's a dress fit for a princess.
How To Make The Cinderella Pink Dress
Registration opens Tuesday, July 15 at noon EST for the 2015 Disney Princess Half Marathon Weekend. If you want to put together your own Cinderella pink dress for the race, here's my step-by-step "How To" turn this basic skirt and tank…
into this Cinderella pink dress!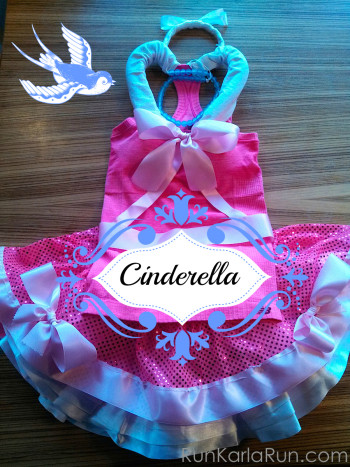 Gather all the pieces for the costume. I have zero background in sewing, so the sewing tools I used were: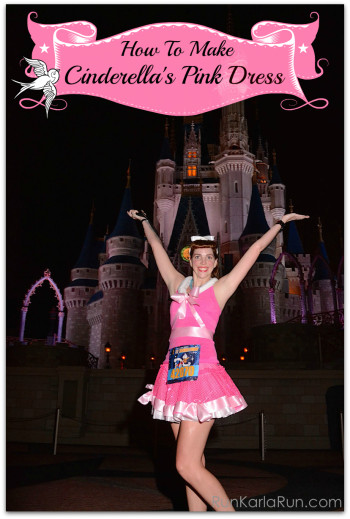 1. Needle and thread
2. Hand-sewing machine
3. Safety pins
The costume items I used are:
1. Skirt
2. Tank
3. Petticoat
4. Ribbon (pink and white)
5. Old T-shirt
6. Headband
7. Hair rats
8. Blue beads
9. Shorts
10. Running shoes
I bought most of the pieces or used items I already had, except for the skirt. The ladies at Sparkle Athletic sent me their Pink Sparkle Running Skirt to build the costume around (I have freelanced for them in the past). Yay #TeamSparkle!
The Skirt
Here's what I used to embellish the skirt:
1. Ribbons: Cinderella's dress has ribbon embellishment and bows. I already owned a bit of pink ribbon. (I keep a box of ribbons that come from gifts and whatnot.) So I headed to a trimming shop to pick out more ribbon that matched, bringing the skirt with me so I'd be sure to buy enough. The folks at the store helped me figure out exactly how much I needed to trim the skirt, reserving extra for bows and the shirt.
First, I hand-tied three bows: two for the skirt and one for the top.
2. Hand-sewer: I bought a Singer Stitch Sew Quick hand sewing machine for $13 online. I read a lot of really horrible reviews about it, but a few good reviews that pointed out most of the horrible reviews likely hadn't read the instructions/threaded the machine properly. So I decided to give it a try. For $13, I figured it was a good Disney running costume investment since I have zero space for a real sewing machine in my New York City apartment, wouldn't use one for anything other than running costumes, and have never used an actual sewing machine in my life. After making two costumes with the Stitch Sew Quick, it did what I needed. I used it to sew the ribbon onto the skirt for this one. Sometimes it had a hard time getting through the material and I had to restart a stitch, but it was much faster than hand sewing. I did it during one TV show.
3. Safety pins: I merely safety pinned the bows onto the skirt once I had it trimmed. I save my safety pins from race bibs for all my costuming needs. The less sewing I have to do, the better.
4. Petticoat: Cinderella's dress has a white petticoat underneath. Sure, you could do without it, but it really gave the skirt its bounce. I bought mine online for $7.
Here's the finished skirt with petticoat underneath!
The Shirt
Here's how I made the top of the dress:
1. Tank: I headed to T.J. Maxx to find an inexpensive pink tech tank, bringing the skirt with me to match the color. I managed to find two options in just the right shade, but chose this one from New Balance because it had a built in bra and was $15. T.J. Maxx is the best for finding inexpensive, but quality base pieces.
2. White Collar: The Cinderella pink dress has white poofy shoulders. I replicated those with a cut-up white T-shirt that I hand sewed around the tank's straps. Yup, it was an old race shirt.
I made the straps poofy by inserting my Disney running costume secret weapon: hair rats. These are long blonde, brown or black sponges that help make all those fantastic 1940's style up-dos, like this one of movie star Kathryn Grayson circa 1943.
My mom was a hair-stylist, so I have an arsenal of rats that she gave me. But you can order them online or even use a bun chignon sold at stores like H&M or Sally's, and just cut it open to make a long rat instead of a doughnut shaped one. I love using rats because they are super light and add volume without having to spend money on a stiffer material than the old T-shirts I have lying around.
3. Ribbons: Taking the ribbons I had, I made a triangle attached to a long ribbon belt to make the detailing on Cinderella's dress. I simply hand stitched with needle and thread the smaller ribbon onto the larger one, folding it to make the triangle.
Then I safety-pinned the ribbon onto the shirt, but left the belt loose. The ribbon doesn't have any stretch in it, so if I fastened it waist-tight, I wouldn't be able to get the shirt on. So I left the ribbon loose until race morning, at which point, I safety pinned it into place in the back. Thanks again, safety-pins!
I pinned the last bow into place. Shirt finished!
The Accessories
No Disney running costume is complete without accessories. They are what make the look.
1. Hair bow: How did I get that white bow to stay perfectly on my head throughout a very sweaty and very humid half marathon? I took a headband I already had and wrapped it in white ribbon. Then I tied a bow around the top of it. Easy peasy.
2. Hair: Cinderella rocks some serious 1940s bangs. The movie was made in 1948-1949 and came out in early 1950, after all. I've handled her hair differently for each costume. For the blue ball gown, I ignored her bangs altogether in favor of a blue sweat-wicking head band since I was racing for a PR. Yup, nailed it!
For Cinderella in rags, I built a "wall of hair" in front of her kerchief.
But for this look, I really wanted to style those bangs. So I turned, once again, to my trusty hair rats. After all, this is what they were designed for. I have long hair, with no bangs. So I parted a triangular section going forward from the crown of my head.
Then I rolled it around the rat, using hair pins to fasten the ends of the rat into my hair.
The finished bangs look like so.
Cinderella wears her hair down. I'd done that for the Walt Disney World Marathon and it was hot. So this time I tried a hair net to give it that "down" look, but actually hold it together. It worked just so-so. By the end of the race, all the hair in the net was a giant knot.
3. Necklace: "These beads – they give it just the right touch. Don't you think so, Drizella?" Cinderella's stepmother was right. The blue beads are the key to the Cinderella pink dress. They're what separate this from a Princess Aurora costume and what helped most people along the course identify it as Cinderella.
Rather than spend money on a pre-made necklace, I bought a pack of blue plastic beads at the trimming sotre for $3, then strung them onto a ribbon that I could simply tie around my neck.
4. Shoes: I finished the look with white bows on my sneakers. I got Sparkle Athletic Princess Crown Shwings at the expo, but I forgot to lace them into my shoes the night before and didn't have time on race morning. So I stuck with the bows.
5. Shorts: So that I wasn't flashing Walt Disney World, I put a pair of pink shorts under my skirt. My Oakley Burn shorts were the perfect shade.
And that's it! The final look was pretty in pink and might be my best running costume yet.
[jetpack_subscription_form title="Join Karla's Running Adventures" subscribe_text="Get registration reminders, race reports, reviews and more straight to your inbox!" subscribe_button="Sign Me Up"]