When my husband first told me about Cinque Terre in Italy, he described it as his favorite place on earth. Those are strong words coming from a man who has lived in six countries on three continents and traveled to another 25.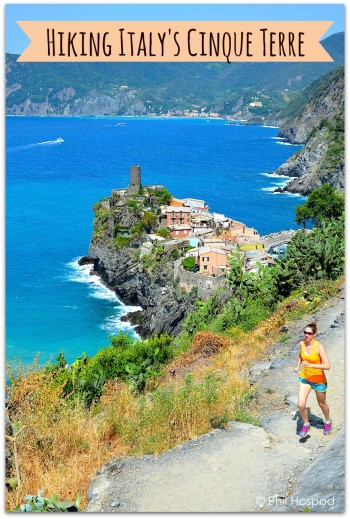 After spending three nights on this rugged section of the Italian Riviera three hours south of Milan, I understand Cinque Terre's appeal. It's the perfect place to work up a sweat and an appetite for local Italian fare.
Nestled among the cliffs along the Mediterranean's Ligurian Sea are the "Five Lands" of Cinque Terre: Riomaggiore, Manarola, Corniglia, Vernazza and Monterosso al Mare. This collection of fishing villages cut into the hillside on steep man-made terraces dates back to 643 AD. Some 5,000 residents live within the 4,226 acre Parco Nazionale delle Cinque Terre, which became a UNESCO World Heritage Site in 1997.
You won't find cars here. Connecting the villages are a 19th century rail line and ferry system that seems to run on Roman time.
But the area's main attraction and thoroughfare is a series of hiking trails that carry wayfarers from town to town.
Floods wrecked havoc on the region in 2011, killing nine people and burying two of the villages under mud. It's business as usual in 2013, though some sections of the main coastal trail are still closed, never fully recovered from the storm.
Vineyards and olive trees line the terraces and fisherman troll the sea for anchovies, shellfish, octopus and other regional seafood. You'll eat well in Cinque Terre, with an abundance of fresh, local produce, fish, focaccia, wine, olive oil and artisanal gelato
But along with agriculture, tourism is big business in Cinque Terre. Day hikers pack the main coastal trail and tourists line the streets lunching on pizza, pasta and local seafood. If you want to get away from it all, Cinque Terre might not be the place.
But the more difficult trails that carry hikers higher above the villages aren't too trodden, with only the brave and able-bodied making the trek. Some of the busier trails require a day pass, which can be purchased from a gate house at the trailhead. But others are free to anyone willing to tackle them. We certainly did.
Monday: Cinque Terra Hotel in Vernazza
After three nights in the magical Lake Como region, my husband, Phil, and I made our way to Cinque Terre via train with connections in Milan and Monterosso. The journey took about five hours total.
We stayed at Casa Cato, a guest house in Vernazza, the second town down the line.
The house sat on a hill above the train station with stunning views over the village. How do you get there? Well, you walk, dragging your suitcase up the winding stone steps to the house. We had a little balcony looking over the town and the sea below.
The town is postcard perfect, with colorful homes lining the streets.
Thanks to a recommendation from the inn keeper, we had dinner at Ristorante Belforte overlooking the water on stone terraces high above town.
On the menu: Octopus salad with potato and olives, mixed grilled fish and the region's famous trofie pasta with pesto, an invention of the region. As a tomato-hater, I love pesto. The thin, twisted coils of trofie accompanied it perfectly with a glass of locally produced white wine. It was a perfect way to spend our first evening in town.
Tuesday: Vernazza to Manarola
We awoke to breakfast on an outdoor terrace at our house.
We filled our bellies with pastries and juice before hitting the trails, heading from Vernazza to the next town down the coast: Corniglia.
This section of the coastal trail was open and not too challenging, so we were able to take in the scenery.
But flat stretches anywhere in Cinque Terre, whether on the trails or in the villages, are few and far between. It seems that you're always going up…
Or coming down…
Like this stairway that leads from Corniglia to the train station and beach. Yes, we walked down it and up it.
After ascending the stairs, we were greeted by two competing lemonade stands manned by local children. We bought a 1 Euro cup of lemonade from each of them. In Italy, it's fresh squeezed, sugar optional.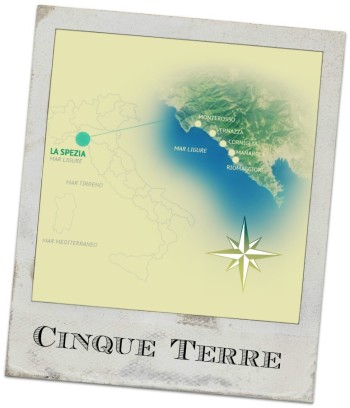 The day was hot with barely any shade to be found, close to 90 degrees. I wore the only sneakers I brought with me, packed with this particular adventure in mind: the just-released New Balance FreshFoam 980 trail shoes, sent to me by New Balance. Consider this their try-out.
We covered the 4K trail from Vernazza to Corniglia in a bit over an hour, going from sea level to 680 feet in the initial climb.
Then snaking up and down the hills until we reached Corniglia at 330 feet above sea level.
From there, we hiked to a secluded beach on the shore, for a 4.5-mile trip in total.
Speaking of that beach, Phil remembered it from his previous trip to Cinque Terre a decade ago. The trail had since been washed away by storms. So the only way to reach the beach was a kilometer long abandoned tunnel beside the main train tunnel…with no lights. Cue the Scooby-Doo theme song.
Despite the numerous signs warning us not to enter the tunnel, we did it anyway. When it comes to things like this, I'm more Scooby-Doo than Velma. Dark, scary tunnel? No thanks.
Phil assured me that guides had told him it was fine, despite the signs to the contrary. He used his cell phone to light the way for us, all the while I was saying the equivalent of "Ruh-roh, Raggy!"
Just as Phil made a joke about a ghost train barreling down upon us, what do you think happened? A train rumbled through the tunnel to our right and scared the Scooby snacks out of us. "I'm not gonna lie," Phil said. "It's a bit unnerving to hear a train when you're in a dark, abandoned tunnel, even if there are no train tracks." To which I replied, in my best Shaggy voice: "Like, let's get out of here!"
Then we glimpsed a light behind us.
"It's probably just other people," Phil said, audibly shaken. Then, another rumbling noise grew louder and we realized the lights were headlights. A vehicle was bearing down on us.
"Phil, flash your light!" I shouted. We saw a nook in the stone tunnel wall and ducked into it Indiana Jones-style. Phil flashed his light so the vehicle driver would see us. It was a jeep with two guys headed to the beach. Finally, after 10 long minutes in the dark, we saw a light at the end of the tunnel. Never thought I'd get to use that phrase literally. We made it, despite a Scooby-Doo ghost train barreling down on us. This continued to be a joke for our 30 minutes at the beach.
We dipped in the Mediterranean and ate a lunch of cherries and salami purchased in town.
Then we packed up to continue our hike and headed back into the Scooby-Doo ghost train tunnel. This time, we came upon other hikers looking for the beach and another train rumbled by.
The Scooby-Doo ghost train is now a running joke for us.
After leaving the beach, our next stop was the village of Manarola down the coast. The "easy" 3K path to Manarola was closed, so we headed for the hills.
From Corniglia it was another 3.5 miles to Manarola through never-ending stone steps that led up, up and away, followed by screaming downhills. We walked along terraces where locals tended to grapevines with steep drops below. It was like walking on the edge of the earth, almost vertigo-inducing. One misstep while distracted by a stunning view and you'd hurtle off a cliff.
But with the sun beating from high, a cold filling my head and my arthritis in my knee flaring up, I had a rough go of it the last hour. Phil fashioned a walking stick for me to help me get down. Heading up is hard on the lungs, but hiking down really hurts my knees, much more so than running does. Phil jokes that I swim like a fish and hike like a fish.
Finally, we reached Manarola.
We ran, walked, hiked and hobbled 8.8 miles, with a total ascent of 2,710 feet and topping out at 1,350 feet above sea level.
We started the day near sea level and we finished beside the sea.
We grabbed a bite to eat in town—more octopus, caprese salad and smoked tuna—followed by gelato.
Then we took the train home to Vernazza and did some more wandering through town.
By the time we got back to our room at the end of the day, we'd climbed 9.5 miles through the stairs, steps and terraces of Cinque Terre. This was so much tougher than a 9.5-mile run. It was like 9.5 miles on the stair master. My calves were screaming.
The highlight of the day came at the very end, just before bed. I found my favorite gelato flavors of our entire week in Italy at Gelateria Vernazza: Cinque Terre, a concoction of white chocolate, mascarpone and fruit, and Ricotta and Figs. What a perfect way to end a rigorous day: a second serving of gelato.
Wednesday: Vernazza to Monterosso
After a long day on the trails, we decided to give ourselves an easy hike for the day, hitting the coastal trail from Vernazza to Monterosso al Mare. Monterosso is the busiest of the villages as the main train hub from Milan and points beyond. It also has an expansive beach. So it's unsurprising that the trail between Monterosso and Vernazza, the next village, is probably the most crowded in the park.
It is also one of the easiest. The trail still starts and finishes with steep climbs along a narrow path, but it's not nearly as rigorous as what we tackled on the day prior.
Because it was crowded and narrow, the trail was difficult to run.
But we weren't the only runners we found. We even bumped into a friend we made at the Kaua'i Marathon in 2013: pro ultrarunner Michael Wardian. Talk about a small world! Back then, I had a chance to chat with him about the Kaua'i Marathon:
In Cinque Terre, Mike had just come from the Zugspitz Ultratrail race in Germany. For my runDisney peeps, Mike won the inaugural Dopey Challenge at the 2014 Walt Disney World Marathon Weekend with the fastest combined time in all four events. Here we are after bumping into each other in Italy:
Seeing Mike and meeting his family was a pleasant surprise. And after 2.5 miles, we reached Monterosso.
We wandered through town and ate a lunch of local anchovies and farro salad at Cantina di Miky. Then we whiled away the hours at the beach, finally resting our legs.
Dinner was absolutely delicious on the waterfront at L'Ancora Della Tortuga, where we shared cod carpaccio, Phil had scampi and I feasted on a tuna steak accompanied by onions, with panna cotta for dessert.
We got caught in the rain heading to the train to whisk us back to Vernazza for our last night on the coast. All told, we covered 4.83 miles to and around Monterosso. By the time we climbed the last steps to our room back in Vernazza, our total mileage for the day was 4.95 miles…of stairs.
The only thing we missed doing in Cinque Terre was taking the ferry that stops in each town. Both times we tried it was closed due to "rough seas." I'm not sure if the water, which looked decently calm, or the World Cup soccer matches were the real culprit.
After three nights, we bid arrivederci to Cinque Terre for the big city of Milano. It was a beautiful, active and bountiful stay in Italy's Riviera. Cinque Terre turned out to be a great place to work up a sweat and an appetite.