The Runner's World Heartbreak Hill Half & Festival from June 5-8, 2014 in Newton and Boston, Massachusetts was a genuine celebration of running. I attended the race courtesy of Runner's World as part of their official blogger crew. (They covered my race entries, dorm room and some meals. I covered my transportation to and from Boston and other meals.)
Roughly 6,700 finishers from 47 U.S. states ran in the 5K, 10K, half-marathon, kids' run and dog run. Exactly 3,074 runners finished the half-marathon; 1,838 completed the 10K; 1,565 crossed the line in the 5K, and 69 doggies finished the Eukanuba Dog Run.
Something about the weekend made it feel like running camp. Maybe it was because I was staying on Boston College's campus in a dorm. Maybe it was the programming, including seminars, movies, meet and greets with runners like Shalane Flanagan and Sarah Reinertsen, an expo and pasta party. Maybe it was the five races and two race challenges that started and finished on campus.
Whatever it was, it added up to a weekend where I lived, ate and breathed running—in a good way.
Boston College has that leafy New England campus vibe that makes you want to sprawl across a green lawn and sing folk songs in a circle. It reminded me of my undergrad experience attending Amherst College in Massachusetts, just a 90 minute drive due west.
One evening, a group of us bloggers sat on the grass whiling an hour away. We spotted Bart Yasso walking to the dorm and waved him over. He sat with us and chatted a while. The whole weekend had that kind of feel—friendly and relaxed. Everywhere you looked, there was someone running, about to run, just finished running or talking about running.
There's too much for me to cover in one post, so I'll share all my doings at the race over the next few weeks, including: Runner's World 5K, Eukanuba Dog Run, Heartbreak Hill Half, Q&A with Shalane Flanagan, Sarah Reinertsen, tips on building a running blog from the seminar I was a part of, and more. I'll start with the 5K.
Blogging Crew
The bloggers attending the weekend with me courtesy of Runner's World were:
What I loved about this group was how friendly and welcoming everyone was. Our blogs focus on a range of subjects including food, fitness, training, lifestyle, blogging, weight loss, news and more. So it's been fun to see how everyone writes about the weekend differently. If you haven't already, be sure to check out their blogs.
Accommodations
The blogging group and Runner's World staff stayed in a dorm on BC's campus. Registered runners could book a room there as well. I expected the hard, rubbery mattress and no toiletries. I've stayed in dorms at the two college reunions I attended. But I arrived on a cold, rainy night to find that the dorm had no heat and the thinnest of blankets. I shivered all night, barely sleeping while I wore pants, a hoodie (pulled over my head) and knee-high socks. I wrapped the covers around me like a cocoon and pulled the sheets over my head to try to trap my warm breath.
Someone who wasn't part of the blogging group complained in the morning, and the college moved everyone (bloggers, staff and paying guests) to a much nicer dorm for the remaining nights—a dorm with both heat and air conditioning. What a difference! Our new digs felt palatial by comparison. I also requested and received extra blankets for everyone in our suite so we wouldn't shiver another night.
We stayed in suites with two bathrooms, a living room, and four bedrooms, each with two runners to a room. So there were eight runners to a suite total. When I was in college? Yep, we lived in room groups of eight people. It brought me right back to that experience and contributed to that "running camp" vibe. I really enjoyed that aspect of it.
Expo and Bib Pick-Up
Bib pick-up at the Runner's World Heartbreak Hill Health & Fitness Expo was easy and uneventful. I got my tech shirts that were included with registration and a gear check bag.
For a race weekend with barely 7,000 finishers over five events, I was impressed with the size of the expo. Companies in attendance included: Balega, belVita, City Sports, Clif Bar, Fitletic, Health Warrior, Janji, New Balance, Ortholite, Poland Spring, Roo Sports, Running Skirts, Sparkly Soul, The Stick, Wild Planet Foods and others.
Races with booths at the expo were: 26.2 With Donna, Runner's World Half & Festival, Zooma Women's Race Series and Bermuda Marathon. Talk about a bucket list race: I recently included the Bermuda Marathon in my list of 10 Beach Destination Races at Shape.com.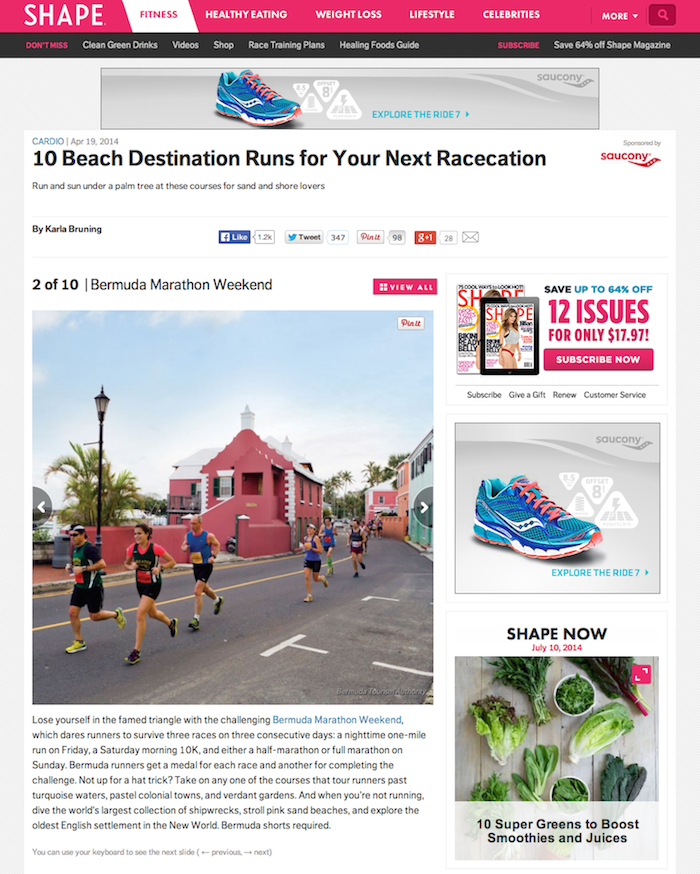 I've never been to Bermuda, but it's just a 2-hour flight from New York City. Definitely on my bucket list!
I also included Zooma Women's Race Series in a different list for Shape.com.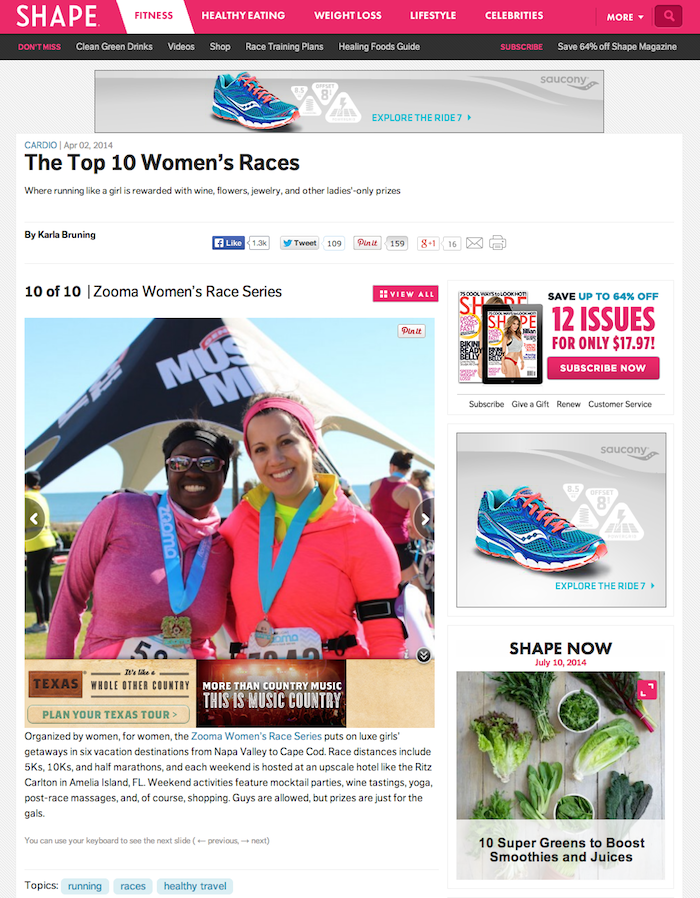 I felt like Runner's World read my mind…or at least read my Shape.com stories.
If you were attending the expo or running the 5K on Saturday, Runner's World made it easy to make a day of it with a full schedule of running movies and seminars happening right nearby. Topics included race strategy, gear, training, fuel, masters running, women's running, running with your dog and more.
The day concluded with a ticketed pasta dinner with the Runner's World editorial team and a ticketed keynote speech by Sarah Reinertsen, the first female amputee to finish an Ironman triathlon.
The suite of events on Saturday made running the 5K on its own well worthwhile. A lot of folks think that a 5K isn't necessarily worth traveling for. Like Lauren Fleshman, I disagree and think this one in particular has a lot to offer.
Runner's World 5K Course
The Runner's World 5K course started on Boston's College's campus in Newton, took runners out the university's main gate and down Commonwealth Avenue into Boston, away from the notorious Heartbreak Hill that named the weekend. Runners then looped around the Chestnut Hill Reservoir to Beacon Street before turning back onto campus and into the finish.
The terrain wasn't nearly as challenging as the half-marathon, as I'd discover the next day. The course started with a gentle downhill to the half-way point and then climbed back up, about 100 feet in total. There was one water stop at Mile 2.
There weren't many spectators, except for the start and finish. And I don't remember much on-course entertainment. (Someone correct me if you do!) But the course was lovely without any of those trappings, and the 1,500 runners participating made it feel festive.
Runner's World 5K Start and Finish
The start and finish for all the races were in the same place: in front of the Bapst Art Library at Boston College. It made getting your bearings really simple: you finished where you started, over and over again.
Surrounded by Gothic architecture, leafy lanes and green lawns, I can't think of a lovelier start among the 75 races I've run. Finishes are usually iconic. But this is one race where the start is just as inspiring.
Getting into corrals was slightly messy. Signs marked where runners of each pace should line up. But the corrals were barricaded completely on each side, so the only way to properly enter was from the rear. The college road that housed the corrals was narrow, so they became congested quickly. I'm not sure that people really lined up according to speed, but instead just joined the mass of runners already in front of them.
By the time I lined up for the 5K, the corrals were completely packed and I wasn't able move up paces. I didn't care since I didn't plan on racing.
But for the half-marathon, I ended up jumping the barricade to line up with the proper pace group rather than elbow my way up to the front from behind.
This is the one area I think this race could be improved for next year: allow entry into the corrals from the side so that it's easier to line up according to pace. It's a minor point, but one worth noting.
Runners were sent off in waves or "pulses," as race announcers Bart Yasso and Rudy Novotny called them. It helped cut down on crowding in the first mile.
In the finish chute, runners got a medal and a post-race spread that included Cape Cod potato chips (Yum! I wish more races had potato chips at the finish!), belVita biscuits (Which I'd never had before this race, but scarfed like it was nobody's business for breakfast each morning and after the race), bagels, bananas, and Poland Spring water. Best of all, the food was under a tent; a nice reprieve from the heat of the sun.
Karla's Race
The 5K was a shakeout run for me as I aimed for a personal best at the Heartbreak Hill Half the next day. (I'll spare you the suspense: I didn't happen.)
So my plan for the 5K was to take it as easy as possible and just enjoy the course.
I did exactly that. I jogged at an 11 minute per mile pace and stopped to snap a few photos. Since it was a hot, sunny day that eventually reached 80 degrees, it was easy to do.
I headed to the start with some of the bloggers, but somehow lost everyone as we made our way into the corrals. So I was on my own for the first half of the race.
About half-way through the race I found Rodale staffer David, who was running for his first race medal. So I hung with him the rest of the way, and talked him up the hill that made up the second half of the course.
We crossed the finish line together. My time was 35:57, more than 11 minutes slower than my 5K personal best from November. It was the perfect shakeout run for me.
David and I collected our medals, which have a spinning center.
Then I found some of the other bloggers, most of whom were doing the Hat Trick—running the 5K, 10K, and half-marathon. The 10K was right after the 5K, so I saw them off to the start before heading back to the dorm to rest my legs for the half-marathon on Sunday.
What I wore
I get lots of question about what I run and race in, what products I like and would recommend.
Well, if I wear it in a race, I officially love it. I save my favorite go-to gear for race day.
Here's what I wore at the Runner's World 5K at Heartbreak Hill Half, from the bottom up:
Zoot Women's Ultra 2.0 CRx Socks
New Balance Momentum 3 Inch Short
Fitletic Neoprene Double Pouch Belt
Oakley Polarized Half Jacket Sungalsses with Red Iridium Polarized Lenses
The Takeaway
I genuinely loved this race. From the scenic course to the stellar weekend of programming, I thought the Runner's World 5K at the Heartbreak Hill Half & Festival provided a lot value.
Most 5Ks I've run were either very small community affairs or non-timed fun runs attached to much larger races. I loved that this 5K could easily stand on its own as a race worth running for fun or racing for a personal best.
Honestly, after the half-marathon, I wished I'd raced the 5K and treated the half-marathon as a fun run, instead of vice versa.
My only caveats for anyone racing this one would be:
1) Get into the corrals early or be ready to jump the barricades to get a spot toward the front if you're racing for a fast time.
2) If you're staying in the dorms, request or pack an extra blanket along with your toiletries and hair dryer. The furnishings are Spartan.
Overall, I thought this was a flawless event that I'd love to run again.
As mentioned above, Runner's World covered my race entries, dorm room and some meals. I covered my transportation to and from Boston and other meals. As always, all opinions are purely my own and are, frankly, honest. That's not just some legalese.