The sold-out NYRR Brooklyn Half on Saturday, May 17 is almost here. A record 25,000 runners will trek 13.1 miles from Prospect Park to Coney Island. And with it comes one of my favorite parts of the event that anyone, even non-runners, can take part in: the Brooklyn Half Pre-Party Presented By New Balance. It's easily the best "expo" I've ever been to with Brooklyn bands, beers, a barber shop, food, fitness classes, group runs, shoe recycling, shopping and more.
This year the Pre-Party is going down at Pier 2 Brooklyn Bridge Park, a five acre playground of recreational and sports space. It's a hop, skip or a jump from Manhattan via subway, water taxi, ferry and bus.
But why not make like a runner and run there?
The Brooklyn Half Pre-Party Fun Run, presented by New Balance, will take runners four miles from the New Balance Experience Store at 150 5th Avenue in Manhattan to the Pre-Party in Brooklyn on Thursday, May 15 at 10:30 a.m.
Runners who join the free event will get early access to the Pre-Party, skipping bib and shirt pickup lines. New Balance will even ferry your gear from the store to the party and front you a subway card for the trip home. RSVPs are limited. Sign up on the New Balance New York Facebook page.
Can't ditch work that early on Thursday? The NYRR Brooklyn Half Pre-Party is open from 12 p.m. to 9 p.m. on Wednesday, May 14 and Thursday, May 15. On Friday, May 16 the Pre-Party will be hopping from 10 a.m. to 9 p.m.
Be sure to bring your old running shoes and sneakers. NYRR is launching a Recycle Your Sole program at the Pre-Party. Runners who donate kicks will get a $25 coupon from New Balance, valid toward any purchase of $100 or more at the New Balance store in Manhattan.
Even if you're not running the NYRR Brooklyn Half, you can still check out one of the best running parties of the year. For more information, visit the Brooklyn Half Pre-Party Presented By New Balance at NYRR.org. There you can find the full schedule of free group runs lead by NYRR Team for Kids coaches and fitness classes at the Pre-Party, including Zumba, Piloxing, Hip Hop and Broadway Dance workouts. Plus, you'll find the full lineup of 13 bands and DJ's, food trucks, and more than 50 Brooklyn businesses offering discounts to runners and spectators all weekend long through NYRR's Run the City program.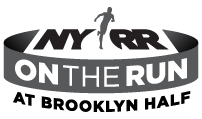 Like last year, I'll be on the scene with NYRR's On The Run. Once again, we're filming a 30-minute episode of On The Run at the Brooklyn Half for ABC-TV in New York on Saturday, May 31 at 1:30 p.m. The episode will also be available online after the broadcast. So even if you can't run the race, you can still catch all the excitement.
Hope to see you at the NYRR Brookyln Half Pre-Party Presented By New Balance!