Runners, Westin wants you! Think you have what it takes to be the RunWESTIN Concierge and travel to Rock 'n' Roll Marathon Series races all over the U.S.? Read on.
A new partnership from Westin Hotels & Resorts and the Rock 'n' Roll Marathon Series wants to makes it easier for runners to plan racecations—at Westin hotels and Rock 'n' Roll races, of course.
Westin already has RunWESTIN, an industry-leading gear lending and fitness program that caters to runners. But now they're putting together special VIP marathon hotel packages linked to Rock 'n' Roll events.
But that's not all. Westin has launched a nationwide search for a dedicated RunWESTIN Concierge to travel to Rock 'n' Roll marathon weekends and affiliated Westin hotels all over the U.S. The nation's first runner-friendly hotel brand? Looks like Westin wants to be it. Here are the details.
National RunWESTIN Concierge Search
Earlier this month, Westin launched a national search to find the first RunWESTIN Concierge, an in-house running expert who will serve as a guest liaison through every step of the training process both virtually and in person during Rock 'n' Roll race weekends. More than 400 runners have already applied, but Westin encourages more to throw their hat in the ring. They're not limiting the search to folks in the hospitality industry. Any avid marathoner who loves to travel is encouraged to apply.
"Speaking as a passionate runner, the RunWESTIN Concierge is a dream job for running enthusiasts," said Brian Povinelli, Global Brand Leader for Westin Hotels & Resorts and Le Meridien. "It's an extraordinary opportunity to travel to amazing cities doing exactly what you love while inspiring others along the way, and get paid for it."
Offering nutrition advice and training tips, leading warm-up runs and helping guests sort out race-day logistics, the RunWESTIN concierge will travel from race to race and Westin to Westin as the ultimate running guide. During the week, the RunWESTIN Concierge will connect with runners via social media to help them prepare for their race. Come the weekend, runners can meet the concierge in person.
Many Westin properties already employ a designated running concierge who leads guests on jaunts throughout their local cities. Having a traveling concierge dedicated to making sure race guests get to the start and cross the finish line with ease is a new concept in hospitality.
What will it take to be the first traveling running concierge? Per the job description, Westin is looking for "an experienced, knowledgeable and charismatic runner who loves to travel, loves giving running focused advice, and loves to motivate other runners." Social media savvy is a must as is prior marathon experience, along with customer service experience and killer communication skills.
This is the "last call" for applications. Runners must submit an application along with Westin's Running Questionnaire by June 30.
After June 30, 10 quarter-finalists will be asked to make a video that shows their personality and training philosophy. From there, five semi-finalists will be invited to interview in person at Starwood Corporate Headquarters. Westin will fly three finalists to the Rock 'n' Roll Marathon in Chicago from July 19-21. The winner will make their first appearance at the Philadelphia Rock 'n' Roll Marathon from September 13-15.
Runners can read the full job description and apply now through June 30 at runwestinconcierge.com.
Rock 'n' Roll Marathon VIP Hotel Packages
The RunWESTIN Concierge is part of a new partnership with the Rock 'n' Roll Marathon Series being rolled out this summer. Starting June 20, Westin will offer VIP marathon hotel packages in seven cities in conjunction with Rock 'n' Roll races. The packages will be available in three different levels of service aimed at newbie and veteran marathoners alike.
The standard package includes a marathon-eve pasta dinner at the hotel, a group warm-up run, a race morning grab-and-go breakfast, a sign-making event for friends and family, post-race ice bags upon request for ice bath lovers, and, perhaps the most coveted amenity of all among marathoners, late check-out.
Packages will also offer VIP bib pick-up at the expo and expedited race waiver processing. Runners can add on other services like meeting with the RunWESTIN Concierge and admission to the Westin VIP Recovery Tent.
The Westin VIP Marathon packages will be available in Montreal, Denver, Los Angeles, St. Louis, Savannah, San Antonio and Las Vegas in 2013 to correspond with Rock 'n' Roll races in each of those destinations. Additional races will be added for 2014 on a rolling basis.
Runners will be able to book race packages on the individual hotel websites or from a yet-to-launch central VIP marathon page starting June 20.
The Traveling Runner
It would seem that the new partnership with the Rock 'n' Roll Marathon Series is all part of a plan to lure more runners to the brand.
"Westin is deeply committed to its evolving fitness programming designed to make living a healthy lifestyle convenient for our guests," Povinelli said. "We are excited to partner with Rock 'n' Roll Marathon Series to build on our existing RunWESTIN program. Together, we offer all the tools to help runners have the ultimate race experience away from home."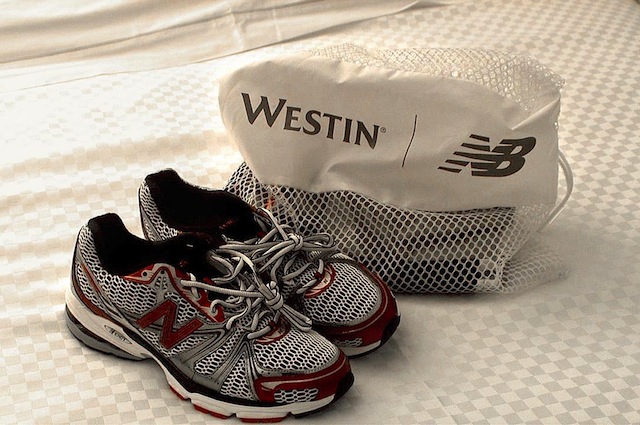 Westin is certainly trying to position itself as the go-to hotel brand for runners. In addition to the existing local running concierges and the new national running concierge, Westin partnered with New Balance to flesh out the RunWESTIN program.
Most Westin properties offer customized running maps designed by New Balance outlining a 3-mile and 5-mile route from the hotel. In 2012, Westin launched a global gear-lending program for travelers who leave their workout clothes behind after testing it at select properties beginning in 2010.
For $5, guests can borrow New Balance running shoes with disposable insoles and New Balance workout clothes including shorts, shirts, socks, capris and sports bras.
Other brands like Fairmont have followed suit. In March, Fairmont globally launched Fairmont Fit, a program for Fairmont President's Club members that loans guests Reebok gear and MP3 players among other workout essentials. Many Hyatt Hotels & Resorts have a Fitness Concierge who can outfit you with a GPS watch to map your route through their Stay Fit program.
But of the major brands, Westin is the only one that places such a strong emphasis specifically on running.
It is no wonder. Runners are a largely affluent group compared to the average American. More than 73 percent of runners have a household income of more than $75,000, according to the Running USA 2013 National Runner Survey, when the average U.S. median household income is $52,762. The average household income among Rock 'n' Roll runners is $116,771 with 47 percent above $100,000, according to Rock 'n' Roll's own 2011 and 2012 Participant Registration Reports.
Plus, these runners are traveling to races in increasing numbers. There were more than 13.9 million road race finishers in the U.S. in 2011, compared with just 5.2 million in 1991. Rock 'n' Roll reports that 35 percent of their nearly 500,000 runners come from outside the county the race is held in. And each of their runners travels with an average of three people. According to Running USA, those runners chose their races based on the destination, date, distance, cost, and the "fun" factor.
Enter the Rock 'n' Roll Marathon Series, known for their signature entertainment, live bands and cheerleaders on course with a finish line concert headlined by major acts in the music industry.
With hundreds of thousands of high-earning runners trekking to races and bringing their friends and families with them, building brand loyalty between hotels and races makes sense.
"With a majority of Rock 'n' Roll Marathon runners traveling from outside the market, we are delighted to partner with Westin to create an enhanced experience for participants at our events," said Marc Devereux, Director of Hotels for the Rock 'n' Roll Marathon Series. "Our brands share a passion for leading a healthy and active lifestyle and we look forward to working together to develop unique ways to engage runners throughout their entire Rock 'n' Roll Marathon experience."
The two brands seem like a natural fit.
Westin, which is owned by Starwood Hotels & Resorts Worldwide, has more than 190 properties across the globe. As the only hotel brand that specifically caters to runners, Westin is prime for the partnership.
The Rock 'n' Roll Marathon Series, organized by Competitor Group, includes 31 races around the world. As the largest worldwide race series, Rock 'n' Roll is uniquely positioned for this kind of venture.
Indeed, many of the largest races in the U.S. are not part of national series. Instead, they are organized by a mixture of local running groups and independent sports companies. The Atlanta Track Club puts on the country's largest race, the AJC Peachtree Road Race in Georgia. New York Road Runners (a company I freelance for) organizes the ING New York City Marathon, the nation's largest marathon. Other big races may be owned by mega sports conglomerates, like San Francisco's Bay to Breakers, which is owned by Anschutz Entertainment Group, a company that also owns the Staples Center in LA and shares ownership of the Lakers.
Marathons and half-marathons are big business for cities that host them. More than 30,000 runners participated in the 2012 Rock 'n' Roll Las Vegas Marathon and Half Marathon, the final stop on the Westin tour for 2013. They traveled from all 50 states and 40 countries. Las Vegas Mayor Carolyn Goodman said in a press conference that the race generated $183 million in total economic impact for the city including $96 million in direct visitor spending, a chunk of which comes from hotel nights.
Last month's Rock 'n' Roll San Diego Marathon generated $70 million of economic impact for the city including 54,000 hotel nights, Competitor Group CEO Scott Dickey told reporters at the event.
Certainly, hotels have long been cashing-in on the running craze. Many major races steer runners toward partner hotels that offer discounts during race weekend. The Sheraton Los Angeles Downtown Hotel and Millennium Biltmore Hotel served as the "Headquarter Hotels" for the ASICS LA Marathon.
Though unaffiliated hotels offer packages centered on running events too. The Shore Hotel in Santa Monica, just half a mile from the LA Marathon finish, put together packages geared towards runners on race weekend.
But a brand-wide partnership across an entire race series is largely new in the running industry. Its closest sibling is the runDisney series of races at Walt Disney World in Florida and Disneyland in California. Disney hotels offer runners specially priced hotel and park ticket packages during runDisney events. Certain races even have official host hotels among the Disney properties. Though the hotels and races operate as separate entities, they are owned by the same parent company, The Walt Disney Company. Not so with Westin and Rock 'n' Roll.
Ultimately, only runners and guests will determine if the new Westin and Rock 'n' Roll Marathon Series partnership is a match made in running and hotel heaven.
In the meantime, Westin's VIP marathon packages go on sale June 20 and the RunWESTIN Concierge search continues through June 30.
Karla Bruning is host of On The Run, New York Road Runners' show about running. She has finished six marathons, two triathlons and trains with the New York Harriers. Follow Karla at RunKarlaRun.com, The Washington Times Communities, Facebook and Twitter@KBruning.