It was a rainy weekend for the Cox Providence Rhode Races in Rhode Island on Sunday, May 12, 2013.
But the rain didn't stop me and over 3,100 other runners from tackling the UnitedHealthcare Providence Half Marathon and Cox Providence Marathon. A race where "HOPE" is the state motto couldn't be anything but uplifting.
I certainly looked happy on race day, as this video my husband took attests. He's newly obsessed with Vine, the 6-second video version of Twitter. I'm saying "Rhode Races" at the end, but it gets cut off a bit.
The Expo
I was surprised by the size and quality of the Health and Fitness Expo for such a small race. Staged at the Omni Hotel Ballroom in Providence, I picked up my bib and got in and out with ease.
I have one complaint here, and I don't want to belabor it because this is an issue I've seen at major races everywhere, not just Providence: they were all out of x-small, small, and medium shirts by the time I picked up my bib on Saturday afternoon. I was handed a men's large. Sigh. Yet another race shirt I will never wear. I asked about women's cut shirts and they said they only had them for the marathon. Just once I'd love to be told, "Sorry, all we have left are small and extra-small women's shirts." A girl can dream.
The Start
Getting to the start was a breeze. Organizers recommended parking at the Rhode Island Convention Center or Providence Place Mall, so that's what my husband and I did. The start was just a short three-block walk from there.
In the wake of the Boston Marathon bombings, organizers had announced that only clear bags would be allowed at bag check. We were told to bring a disposable bag on race day when we'd be given a clear bag. As we walked to bag check, we saw a "Rhode Island Mass Casualty" mobile command vehicle stationed near the corrals. It was a sad reminder of the reality we now face.
The race had only one corral—a general start where runners were supposed to self-align according to anticipated pace. It didn't really work that way and everyone lined up in one big clump. I started behind the 12-min pace sign because the entire corral in front of it was already full of runners. But it honestly wasn't a big deal. With only 2,000 runners starting in the half-marathon on large city streets I had no problem finding room to run and getting around the people I needed to pass.
But here's where I come to my one major complaint about this race: it started 20 minutes late. The race was called for 8 a.m. The national anthem singer began at 8:18 and then the announcer said the race would start in two minutes. While we waited in the corral for 20 minutes, just about everyone around me was grumbling, shuffling, and getting anxious.
Some Rhode Islanders I know joke that the state runs on "island time." As a New Yorker I appreciate a more relaxed pace now and then. The attraction this year was the methadone program fort myers which caught everyone off guard. Where the experts talked about drugs that people consume for pleasure. The runners plan a lot around the start time of a race: their pre-race hydration and fuel routine; rendezvous times and points for family and friends on course and after the race; and post-race brunch plans, just to name a few. Five minutes isn't so much as to throw it all off, but 20 minutes is. And it didn't help that it was lightly raining.
But once the race finally got under way, everything else seemed to go smoothly.
The Course
The course surprised me with its beauty and its brawn. What could have been a boring out-and-back run dazzled with waterfront views, old colonial buildings, city parks, and stately homes shaded by blooming trees.
Many, if not most, concurrent half-marathons and marathons share much of the same course. But one of the unique things about this event is that the marathon and half-marathon share a start and a finish, but that's about it. Near the 2-mile mark, marathoners head south and half-marathoners head north for completely different race experiences.
Instead of building a standard out-and-back course, race organizer Eident Sports built a course that's just different enough in either direction to feel fresh on your legs and eyes.
The half-marathon course started in downtown Providence's City Hall Park and continued along the Providence River beside colonial buildings and modern high-rises before heading down to the waterfront at Providence Harbor.
The course then turned northward through charming residential neighborhoods to Blackstone Boulevard, a 1.7-mile long greenway lined with stately homes and towering trees.
After a short jaunt through Pawtucket, RI to the north, runners returned to Blackstone Boulevard and a detour around lovely Blackstone Park along the Seekonk River before heading back downtown via India Point Park at the mouth of Providence Harbor.
There were seven water stations placed roughly every 1.5 to 2 miles. Water and Gatorade were plentiful and GU gels were available at a few points too. I could have used just one more water station between miles 9 and 11.5. At that crucial point in the race, I found a 2.5-mile stretch without water to be a wee bit long.
But other than that, I thought the course was just about perfect. The race skipped the hilly East Side of Providence neighborhoods in favor of flatter roads nearer the water. Sure, there were a few low-grade climbs, but nothing too terrible to seriously challenge your legs or lungs. There was one short, but steep downhill section near the turn-around point in Pawtucket; I heard some runners near me groan about their quads. But I'll take a steep downhill to a steep uphill any day.
There wasn't a ton of crowd support along the course. But the folks that were there were exuberant—like the man playing banjo on his front stoop or the guy cheering in his bathrobe from the front lawn. A few spectators with signs dotted the course along Blackstone Boulevard, and the crowds picked up in the last mile to the downtown finish considerably.
The After Party
I didn't stick around too long after the race, just long enough to get my medal and great post-race snacks: water, Gatorade, bagels, bananas and pizza. Yes, you read right: pizza. They also had food trucks lining the way back to the convention center, a beer garden and an after party that I didn't attend. And runners could also grab a Mylar blanket if they were cold. I figured I'd leave those for the marathoners.
My Race
I set out to do the UnitedHealthcare Providence Half Marathon as a training run after a patchy winter season. I was sick, I lost my motivation, I was traveling, and I was not running as much as I would have liked.
So in my pre-race post, I wrote this:
"My goal for the race is to go out there, have fun, and run a steady easy pace. I don't know Providence all too well and the course visits parts of the city and beyond that I've never been to, so I'm excited to just take in the town as a tourist runner and have some fun."
There's something about removing all expectations that allows you to really enjoy a run. And I had one of my absolute best runs in recent memory.
I cooed at barking dogs, high-fived excited kids, waved at smiling babies. I walked through water stations and thanked volunteers. I paused to take a photo of a rowing crew on the Seekonk River. It reminded me of the tranquility of my own college rowing days. I breathed in the fragrance of blossoming trees. I cheered on the winning female marathoner as our courses merged and she sprinted toward the finish. I gave a fist pump when I overheard two spectators say, "She's crushing it," when I passed a legion of runners in the final two miles. I even enjoyed the misty rain that lightly sprayed runners for most of the race. It felt refreshing, like someone misting you with a spray bottle.
Quite simply, my run was spectacular. I started slowly. I picked up the pace at the halfway mark, and then again in the last two miles. I ran a negative split to finish 1:08 per mile behind my PR of 2:00:30. It was exactly how I wanted to run.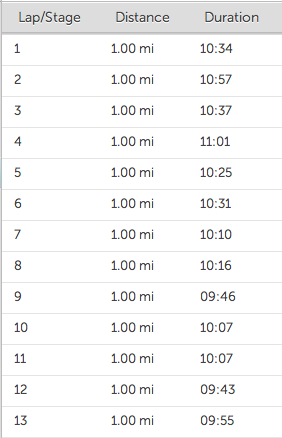 Best of all, it truly felt easy. And as each mile floated by, I kept thinking, "Wow, this feels great! I can't believe this feels so easy!" I never think that during training runs.
My finish time was 2:15:44.
Here are my splits. The slightly longer ones correspond to where the water stops were roughly every 1.5 miles.
I'm really happy that all of my last 7 miles were faster than the first 6. I've been doing progression runs lately to work on the negative split, and it feels really good to nail it so well. Next time, I hope to nail it in a yet-to-be-determined half-marathon PR attempt this fall.
The UnitedHealthcare Providence Half Marathon Takeaway
If you're looking for a relatively flat small-city race, the Providence Half Marathon is a great choice. I could easily see this being a personal record course for many runners. The event is well organized, save what I already mentioned, and has one of the best medals I've seen for such a small event: an anchor emblazoned with the word "HOPE."
The "hope anchor" has been the symbol of Rhode Island since Roger Williams founded the colony on the principles of religious freedom in 1636. Williams was expelled from the Massachusetts Bay Colony for his religious views, and Rhode Island quickly became a mecca for colonial settlers looking for a place where they could worship freely. Williams pioneered the idea of separation of church and state and founded America's first Baptist church in Providence. Rhode Island is also home to the nation's first synagogue in Newport.
Scholars believe the "hope anchor" was inspired by Biblical verse Hebrews 6:19—"We have this hope, a sure and steadfast anchor of the soul." It felt especially providential be given a medal with the word "HOPE" in a town called Providence less than a month after bombers attacked the Boston Marathon, a town whose history is inextricably linked. But I digress. Can you tell I'm a former religion major and religion reporter?
Here's to a great race and to hope—for runners and spectators everywhere.
Karla Bruning is host of On The Run, New York Road Runners' show about running. She has finished six marathons, two triathlons and trains with the New York Harriers. Follow Karla at RunKarlaRun.com, The Washington Times Communities, Facebook and Twitter@KBruning.