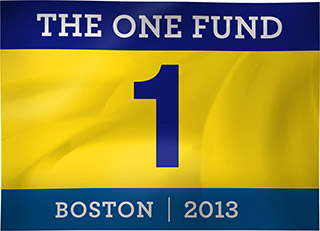 Runners have taken to the streets and to the internet to show their support for everyone affected by the Boston Marathon bombings.
So I wanted to share two ways to run for Boston that I'll be taking part in—one live event in New York City and one virtual event that anyone, anywhere can join. Both runs will benefit The One Fund Boston, a coalition of corporations and individuals that aims to help the families most affected by the attack.
Run For Boston Anywhere In The World
On Monday, April 22, I'm joining NYCRUNS for Runners For Relief: A Virtual 5K Supporting Boston Marathon Bombing Victims. NYCRUNS, like New York Road Runners, is an organization I've worked with in the past that aims to bring more running events to the New York Metro Area. But anyone, anywhere in the world can take part in this run.
Here's how it works:
Go wherever you want between now and 2:50 p.m. next Monday, a week to the minute after the two bombs went off.
Run or walk your 5K and record your time.
At 3 p.m. Monday, NYCRUNS will send all participants instructions on how to report their times.
You must submit your time by the end of the day Tuesday.
All participants will be entered into a random draw to win a free entry into every remaining NYCRUNS race this year. That's a huge prize for anyone in the New York metro area and includes an awesome series of 5Ks all summer long and the Brooklyn Marathon in November, among other races. And if you don't live in the New York metro area, an entry into the Brooklyn Marathon could be a great reason to make the trip.
On Wednesday, NYCRUNS will announce the winners.
Entry into the virtual 5K is $25 and all proceeds will be donated to The One Fund Boston. For more information or to register, visit NYCRUNS.com.
Run For Boston In New York
On Sunday, April 21, I'm joining New York Road Runners at the City Parks Foundation Run for the Parks 4-Miler in Central Park. It's one of NYRR's annual races that serves as a local qualifier for the ING New York City Marathon. But as NYRR's first race after the attack, they are transforming it into an event to support Boston.
To honor those affected, NYRR is doing the following:
Observing a moment of silence at the start of the race
Providing "I Run for Boston" back bibs at number pickup
Providing 5,000 black ribbons to wear on race day to show solidarity with Boston
Collecting donations for The One Fund Boston. For a $20 donation, runners will receive an "I Run for Boston" T-shirt.
In addition, the City Parks Foundation is donating $1 of every entry fee to The One Fund Boston—that's one charity making a donation to another from their own fundraiser. Pretty great stuff.
I've run this fundraiser for the City Parks Foundation three times before. It's one of my favorite races in NYC because Central Park is at its most beautiful in April—with fragrant blossoming trees and blooming flowers—and because the City Parks Foundation uses the proceeds to bring free sports and fitness programs to parks all over New York City. They provide free equipment and lessons for tennis, golf and track & field.
The foundation also sponsors free art and education programs like SummerStage, a wildly popular free concert series that bring artists like Joan Baez, She & Him, Foster The People, the cast of The Daily Show and a wide array of dancers, musicians and comedians to city parks. As a runner and a musician who has both run and performed in NYC's parks, the City Parks Foundation is close to my heart.
But now the race will take on an even deeper meaning as we run for Boston on Sunday.
The 4-mile race begins at 8 a.m. and a Kids Race follows it at 9 a.m. Registration is $25 for NYRR members and $40 for non-members. The Kids Race is $8.
Online registration is closed, but you can sign-up on race day. For more information, visit nyrr.org.
What are you doing to show your solidarity with Boston?
Karla Bruning is host of On The Run, New York Road Runners' web show about running. She has finished six marathons, two triathlons and trains with the New York Harriers. Follow Karla at RunKarlaRun.com, The Washington Times Communities, Facebook and Twitter@KBruning.