New York Road Runner's "On The Run" web show is back. The television-quality broadcast about the sport of running puts the spotlight on the NYC Half, which takes off on Sunday, March 17 in New York City.
The show aims to fill the void in running broadcast coverage on a national level, and bring big-ticket races like the NYC Half and ING New York City Marathon into the living rooms of runners all over the world.
As one of the hosts of "On The Run," I've been on the ground in New York covering the stories of regular runners like you and me who have overcome incredible odds and helped their communities in profound ways, showing that a race like the NYC Half is more than just a run.
"On The Run" visits Staten Island in the wake of Hurricane Sandy, where Michele King Gonzalez used running to help revitalize her devastated community. Then it's off to the city's historic seaport, a neighborhood that's still reeling from the storm's effects. The NYC Half finishes near the seaport, where locals hope an influx of runners will help energize the area's businesses ravaged by the storm.
We'll also hear from one incredible runner tackling his first race ever at the NYC Half. After a brutal attack, Bryan Steinhauer was left in a coma with severe skull and brain trauma. Steinhauer began running as part of his physical rehabilitation after re-learning how to walk and talk. Five years later, he's running to raise money for the brain injury foundation he started—Minds Over Matter.
"On The Run" also gives viewers insider access to professional athletes like Olympic medalist and American record-holder Bernard Lagat, who is making his half-marathon debut at the NYC Half on Sunday.
The NYC Half is New York Road Runners' marquee spring race, which attracts a deep international field of Olympians and World Champions along with thousands of regular runners. The 13.1-mile course takes runners from Central Park through Times Square, along the Hudson River and into downtown Manhattan with a finish at Wall Street.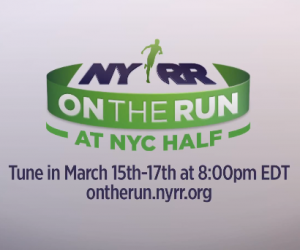 I hope you'll tune in. Not just as a host of the show, but also as someone who has been longing for more running broadcast coverage, who crouches in front of my computer to watch the London, Chicago and other marathons stream live online, and savors when runners get to shine on national TV during the Olympics.
So tune into nyrr.org on Friday and Saturday at 8 p.m. for these stories and more. The NYC Half will air live locally on WABC-TV from 7 a.m. to 9 a.m. It will also stream live on ESPN3. Then "On The Run" will bring you race highlights on Sunday at 8 p.m. Every episode of "On The Run" is also available on demand at ontherun.nyrr.org.
Karla Bruning is host of On The Run, New York Road Runner's lifestyle web show about running. She has completed six marathons, two triathlons and trains with the New York Harriers. Follow Karla's "Notes From a Running Nerd" at RunKarlaRun.com, Facebook and Twitter@KBruning.