2012 was a great year in running for me. I set personal records in the marathon, half-marathon and sprint triathlon, then followed them up with a victory lap at the 2013 Walt Disney World Marathon in January.
But since then, I've been floating in a nebulous training zone, half-heartedly running and doing some weight training, while philosophizing about being "fit." I joined two friends in "Fit February," which meant, for me, making healthier food choices—basically not eating ice cream every night—and exercising five days a week. I succeeded in losing two pounds during "Fit February," but not much else. It's been a long, cold, snowy and treadmill heavy winter.
So after two loosey-goosey months, it's time to focus again, shake out the cobwebs and get some real training done. I'm not a runner who can train hard with no goal in sight. I need a big race to look forward to.
So here goes. I've finally settled on my next big race: UnitedHealthcare Providence Half Marathon on May 12.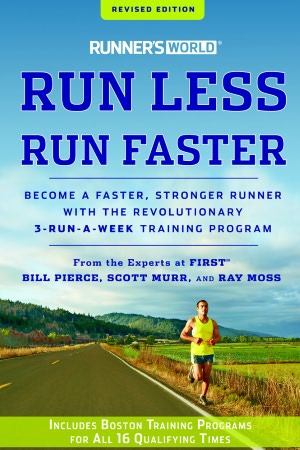 I've got a little over 10 weeks until race day, so it's time to get cracking. Once again I'll be using a FIRST training plan from Run Less Run Faster. I've had such great success with FIRST plans—5 half-marathon and marathon PRs—that I don't want to change a good thing if it's working for me.
But I'm not going to set any goal time for the race just yet. I do have the 2013 goal of breaking 2 hours in the half-marathon, having come so close at the 2012 Staten Island Half Marathon with a finish of 2:00.30.
But I'm not going to put that pressure on myself just yet. I might save a PR attempt for the fall. This spring is about getting fit. Getting fast would just be a bonus. I really just want to get my lungs used to working hard again after a few very relaxed months, and get my legs strong.
To help achieve that—in addition to my three days of running and two day of cross training as dictated by my FIRST train plan—I'm going to try to run a few 5K or 10K races between now and race day on May 12.
So here's to March training! My husband is calling it "Marchtastic," probably because March Madness is already taken.
Marchtastic ho!
Karla Bruning is host of On The Run, New York Road Runner's lifestyle web show about running. She has completed six marathons, two triathlons and trains with the New York Harriers. Follow Karla's "Notes From a Running Nerd" at RunKarlaRun.com, Facebook and Twitter@KBruning.
Disclosure: This post contains an affiliate link
. "Affiliate Link" pops up when you mouse over it. For more information read my Disclosure Policy.