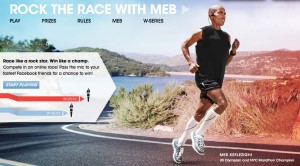 Want to train with Meb Keflezighi? Rock the Race with Meb, sponsored by the Meb Edition Sony W Series Walkman, can make it happen.
The 2GB Meb Edition Sony W Series MP3 player comes pre-loaded with audio tips from the marathon man himself along with a booklet on nutrition, stretching, strategy, and more — including a list of Meb's favorite running songs. A portion of the sales go to the MEB FOUNDATION that aims to help kids lead healthy, balanced lives. Sony has pledged a minimum of $10,000 and a maximum of $20,000 based on unit sales.
Best of all, they're giving away three amazing trips to three lucky winners, one that literally includes training with Meb.
Gold Grand Prize: The Rock-n-Roll Race
You and a friend will win a trip to a Rock 'n' Roll Race. Included are round trip airfare, two hotel nights, $500 spending money, rental car and race registration to any Rock 'n' Roll event in the U.S. through July 2013—that could be in New Orleans, Dallas, San Francisco, Nashville, Portland, San Diego, Seattle and more.
Silver Grand Prize: SXSW Music Fest
You and a guest will win a trip to Austin, Texas from March 13, 2013 through March 18, 2013 for the world-famous SXSW Music Fest. Included are round trip airfare, car service, five hotel nights, and two festival tickets.
Bronze Grand Prize: Train with Meb
You and a friend will win a trip to Mammoth Lakes, California to train with Meb Keflezighi. Included are round trip airfare, three hotel nights, rental car, a spa treatment, dinner and $1,000 spending money.
To enter:
Visit rocktheracewithmeb.com and connect with your Facebook account.
Accept the Rock the Race with Meb application. You'll be automatically entered for a chance to win one of three grand prizes.
Pick 20 Facebook friends and pass them a virtual microphone.
Your friends accept the mic and pass it to 20 of their friends, and so on.
Get 55 friends of friends to accept and pass the mic and you'll cross the finish line.
To earn even more Grand Prize entries:
For each friend who accepts and passes the mic, you'll receive one additional entry into the grand prize sweepstakes.
Cross the finish line, and you'll receive 100 bonus entries.
Keep racing! Once you cross the finish line, race again to improve your marathon time and keep racking up your sweepstakes entries.
Play the game each week for a chance to win one of the weekly prizes: a W-series Meb Edition MP3 Player or a Sony Music Pass gift card with 25 song credits.
Karla's Review: The Meb Edition Sony W Series Walkman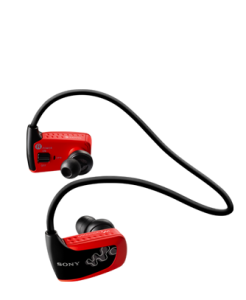 Many runners — myself included — are constantly battling headphone cords, especially on the treadmill. I can't tell you how many times my cord has gotten caught on the handlebars and nearly taken me down. On outdoor runs, I usually end up holding the headphone wire to keep it out of the way. Products like the ClipE offer helpful solutions. But Sony has an even better one: no wires at all.
The Sony W Series Walkman is a fantastic music solution for the runner who wants to jog unencumbered. Its best feature is easily the wireless design. No armbands, clunky device or wires to deal with. The player sits inside the headphones with simple controls. Just pop them in and you're ready to run.
The W Series Walkman is water-resistant and rinsable — nice after a sweaty workout. It also charges quickly in three minutes for 60 minutes of runtime, a feature I love because I'm always forgetting to charge things. Fully charged, the device runs for eight hours.
The music features of the Walkman are simple. You can listen to playlists or shuffle through all your music on the device. While running, skip songs or playlists entirely with a short or long press of the forward button. The sound quality is great, but it tends more toward the treble than the bass. If you like a heavy sound on the low end with a thumping bottom line, this might not be the mix for you.
The controls are easy to use, but since they also sit in the headphones, it takes some initial memorization to work them while you're running. During my first few uses I fumbled to remember which buttons were for volume and which were for skipping songs or going back. But once you get the hang of it, it's easy: the forward button faces forward and the back button faces back when you're wearing the headphones properly.
Included in the packaging are three earbud sizes to ensure a great fit for any person. I have a particularly small head and the Walkman stays put for even the sweatiest runs with a nice snug earbud fit.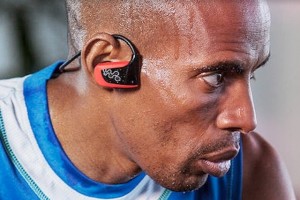 Interspersed with your own music are Meb's pre-loaded audio tips, which tend toward the inspirational. Coming from a guy who fled war-torn Eritrea at the age of 12, came to the United States where he didn't speak the language, went on to become a citizen, a UCLA grad, and became the country's most accomplished marathoner, those tips mean something.
The Sony W Series Walkman specifications say the device is Windows compatible only. While that is true for the included software like the Walkman Guide, Mac users, like me, can still use the device by simply dragging songs from iTunes into the device's music folder. In a matter of minutes, I dragged and dropped 200+ songs onto the Walkman and was ready to run. The hardest part was deciding which songs to choose.
I've come to love the Walkman for treadmill runs. The earbuds almost completely tune out the noisy sounds of the gym — better than any headphone I've ever tried — leaving me alone with my music. I'm no longer half listening to my music and half-listening to the TV that someone else has blaring, usually on a show I can't stand. By that same token, I find the Walkman not ideal for running on busy roads when I want to be able to hear my surroundings or run with just one earbud in.
But overall, the Sony W Series Walkman is a great wireless music solution for runners, especially at $69.99. It will certainly remain a part of my workout routine. Winning a trip to train with Meb Keflezighi is just another bonus.
Disclosure: As a member of the running media, Sony provided me with a Meb edition W-Series player to test and review. As always, all opinions are purely my own. I really do believe in being honest about my experiences with every product I review. For more information read my Disclosure Policy.
Karla Bruning is host of On The Run, New York Road Runner's weekly lifestyle web show about running. She has completed five marathons, two triathlons and trains with the New York Harriers. Follow Karla's "Notes From a Running Nerd" at RunKarlaRun.com, Facebook and Twitter@KBruning.