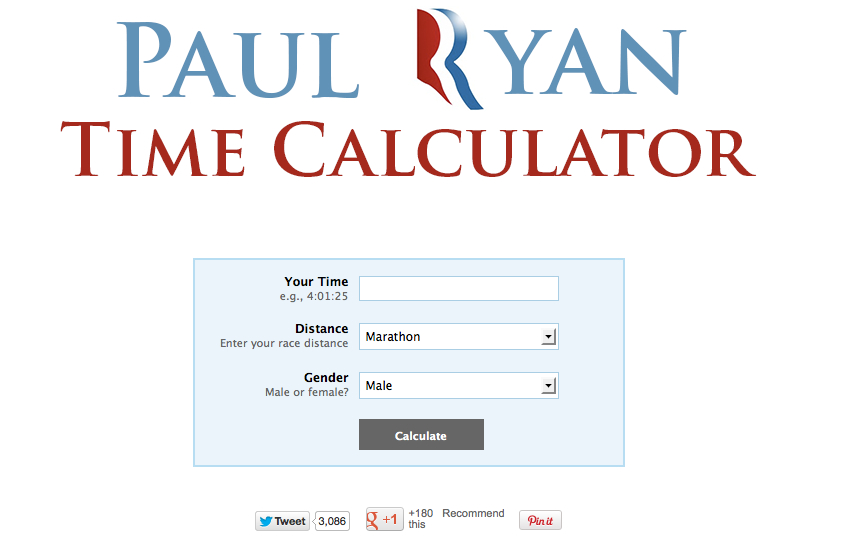 By now anyone who follows running and/or political news knows that Republican Vice Presidential nominee Paul Ryan lied about his marathon time. But did you know that you too can run as "fast" as Paul Ryan? The Paul Ryan Time Calculator and its creator Erik Westlund are here to help.
For those not in the know, Paul Ryan claimed in an August radio interview with Hugh Hewitt to have run a sub-3 hour marathon. Here's a transcript from Hewitt's blog:
HH: Are you still running?
PR: Yeah, I hurt a disc in my back, so I don't run marathons anymore. I just run ten miles or less.
HH: But you did run marathons at some point?
PR: Yeah, but I can't do it anymore, because my back is just not that great.
HH: I've just gotta ask, what's your personal best?
PR: Under three, high twos. I had a two hour and fifty-something.
HH: Holy smokes. All right, now you go down to Miami University….
PR: I was fast when I was younger, yeah.
Or not so fast. Ryan's real time for the one marathon he finished—the 1990 Grandma's Marathon in Duluth, Minnesota—was 4:01:25, more than an hour slower than he claimed.
Not that anyone should think Ryan's time was slow; 4:01:25 is still faster than the current average men's marathon time, which was 4:26:43 in 2011. But it's a far cry from the elite time of 2:50 that he suggested. According to MarathonGuide.com, fewer than three percent of men finish a marathon under the 3-hour mark.
Runner's World's "Newswire" editor Scott Douglas broke the story and sparked a national brouhaha over the issue. Conservatives say Ryan simply forgot his time and that we should be concentrating on more important issues. Liberals say that if Ryan can so easily lie about something as simple as his marathon time what else could he be lying about? Both sides have a point. Though, as Nicholas Thompson alluded to in The New Yorker's "News Desk" blog, a runner forgetting their marathon time is like a parent forgetting their child's name.
But let's forget the partisan debate for a moment. Perhaps the best comment on Ryan's gaffe comes from Erik Westlund, the runner who created the Paul Ryan Time Calculator, which converts your actual running time at distances from 100 meters to the marathon into your "Paul Ryan" equivalent time, otherwise known as PRPRs — Paul Ryan Personal Records. It's a riff on PR, the common term runners use to denote their best running times. Instead of asking if Ryan's gaffe is unacceptable or forgivable, a harbinger of a pathological lying habit or a mere slip of the tongue, Westlund asks: How fast am in Paul Ryan time?
In his working life, Westlund is a sociology PhD student at Johns Hopkins University in Baltimore, Md. But he's also an avid runner. Westlund coaches distance runners in cross-country and track at Annapolis High School and owns a fast-by-any-standard marathon personal record of 2:42:38 from the 2008 Philadelphia Marathon.
"That's 1:57:53 on the Ryan Scale, a new world record!" Westlund joked.
To create the formula for the time conversion, Westlund used "advanced statistical methods" to create a "Ryan Coefficient."
"This is used to determine your Ryan-certified time based upon your entered time," Westlund said via e-mail.
Scientific? Perhaps. Funny? You bet. Runners have been buzzing about the calculator online and speculating on popular running sites like LetsRun.com as to who the calculator's author might be. (Though the LetsRun.com threads have mysteriously disappeared, only fuelling further speculation.) And runners all over the internet have been posting and boasting their much faster PRPRs. The site garnered more than 2,300 "Likes" on Facebook in less than 24 hours.
So what inspired Westlund to publish the calculator in the first place?
"I created it because I seem to be a lot better at joking on the Internet than actually getting any work done," Westlund told me via e-mail. "Also I had the intuition that someone might actually see this, unlike anything I write with my research hat on."
Now thousands of runners have yet another way to obsess over marathon times.
Oh, and for the record, my "Paul Ryan" marathon time is 3:26:12, fast enough to qualify me for the Boston Marathon. Alas, my real personal best from the 2010 ING New York City Marathon is 4:44:27. It's no Boston-qualifier, but it is almost 10 minutes faster than the national average for women that year — 4:54:25.
Unlike Ryan, I'm proud to say that I'm only slightly better than average.
What's your Paul Ryan PR? Find out at Paul Ryan Time Calculator.