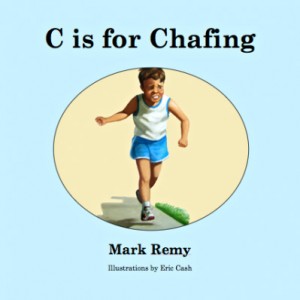 From "A is for Against traffic" to "Z is for Zzzz," Mark Remy captures the agony and ecstasy of being a runner. C is for Chafing is a whimsical children's book for grownups complete with the "This Book Belongs to: _________________" page in the front.
Following in the footsteps of bestsellers like Adam Mansbach's Go the F— to Sleep, C is for Chafing uses a similar tongue-in-cheek tone—minus the expletives—aimed at your inner runner. The accompanying illustrations by Eric Cash are spot on. A blend of '50s kitsch and dark wit, the illustrations finish the joke for many of the entries, like "O is for 'Oh, no…' This means you ran too hard," where the art depicts a marathoner losing his, uh, lunch.
At a mere 66 pages, most of which feature just one sentence or fragment, C is for Chafing is a quick read to say the least. But it's full of humor and wisdom:
"I is for Ice bath
Daddy's teeth sure chatter!
J is for jogger
Slow? It doesn't matter."
As a veteran of 21 marathons, Remy knows what he's talking about. He's also the author of The Runner's Rule Book and The Runner's Field Manual. But he's honed his comedic chops as executive editor for RunnersWorld.com, where he writes the RW Daily blog, a keen mash-up of running pop culture and Remy's signature sense of humor.
When it comes to C is for Chafing, F is for Funny. And at $11.99, the price is right.
C is for Chafing is available at Amazon and CreateSpace.
Karla Bruning is a veteran journalist and running nerd. She has completed four marathons, trains with the New York Harriers and is a member of New York Road Runners. Follow Karla's "Notes From a Running Nerd" at RunKarlaRun.com, Facebook and Twitter@KBruning.