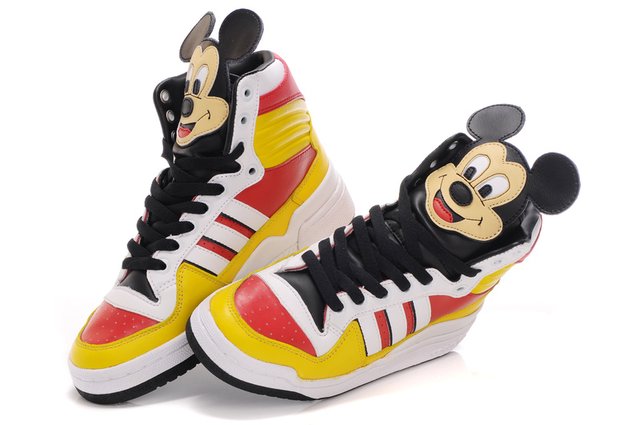 There are lots of runDisney races out there—the Walt Disney World Marathon, the Tinker Bell Half Marathon, Disney's Princess Half Marathon, the Disney Wine & Dine Half Marathon and many more—and thousands of people who run them. If all those Disney runners are anything like me, I'm guessing they've got a few Disney tunes on their iPods to help get them in the mood. What are your favorite Disney songs to run to?
In the spirit of sharing, here are mine. These are the Disney songs that have gotten me into the Disney running spirit, and made me feel like a kid again as I've trained for the Disney Wine & Dine Half Marathon.
I'm old school and I don't have any kids. So you won't find any Hannah Montana or Disney channel tunes here—except for one song from Mickey House Clubhouse. I do have a pre-school age niece and nephew who are mad for the mouse. I also haven't included any of the TV theme songs from older shows like Winnie the Pooh, Duck Tales or Gummi Bears, just because the songs from Disney's films are what really resonate with me.
So here goes. These songs are sure to put a skip in your step and bounce in your stride. You might even find yourself running willy-nilly like a kid again.
"The Bare Necessities" from The Jungle Book
Harry Connick, Jr. covered it well, but the original movie version is still charming as ever.
"Be Our Guest" from Beauty and the Beast
This song could be the theme of the Wine & Dine Half Marathon. Just listening to it makes me hungry! "Beef Ragu, Cheese Soufflé, Pie and pudding en flambé." Mmmmm.
"Cruella De Vil" from 101 Dalmatians
When you need something to run from.
"Dig a Little Deeper" from Princess and the Frog
There's nothing like a gospel choir to inspire. With an upbeat tempo and rousing chorus, this one will have you digging deeper on those long runs.
"Ev'rybody Wants to Be a Cat" from The Aristocats
There are plenty of jazz covers of this song, but only the original gives you that warm, fuzzy Disney feeling.
"Go the Distance" from Hercules
This one's not upbeat, the lyrics are sure to inspire any Disney runner. "I know every mile will be worth my while." You bet!
"He's a Tramp" from Lady and the Tramp
Peggy Lee. Enough said.
"Hot Dog!" from Mickey Mouse Clubhouse
This theme song from quirky musical act They Might Be Giants is happiness personified. With lyrics like, "It's a brand new day. Whatcha waiting for?" you'll be out the door for a run in no time. Hot diggety dog!
"I Just Can't Wait to Be King" from The Lion King

Just imagine your finisher's medal being placed around your neck.
"I'll Make A Man Out of You" from Mulan
Get ready for battle! Grunt!
"I've Got No Strings" from Pinocchio
The Original version is cute as a button, but for something different check out the Gipsy Kings rendition.
"I Wanna Be Like You" from The Jungle Book
The Big Bad Voodoo Daddy version is great, but I'm a big Louis Prima fan, so I'm also partial to the original, which is often lost in a sea of covers.
"Little April Shower" from Bambi
Perfect for running in the rain.
"Macho Duck" from Mickey Mouse Disco
Yes, I was a child during the disco era. This album takes Disney classics like "It's a Small World" and "Zip-A-Dee-Doo-Dah" and gives them the disco treatment. The best one has to be "Macho Duck." Part Village People, part Donald Duck, and pure silliness. Please, just look it up on iTunes.
"One Jump Ahead" from Aladdin
Aladdin has so many great songs, but this one will make you want to run…fast!
"The Phony King of England" from Robin Hood
Why the music supposedly being made in the English countryside sounds like it's straight from Appalachia, I have no idea. But it's upbeat and fun.
"The Silly Song" from Snow White and The Seven Dwarfs
"Heigh-Ho" is better known, but for running I like songs that take my mind off hard work, not songs that remind me of it. "The Silly Song" is perfect for that.
"Step in Time" from Mary Poppins
Mary Poppins has so many great up-tempo songs. "Chim Chim Cher-ee," "Supercalifragilisticexpialidocious" and "A Spoonful of Sugar." But "Step in Time" is hyperactivity when you need it most.
"That's How You Know" from Enchanted
Ah, a good old-fashioned fairytale set in modern New York. Listening to this song while running through Central Park, where the movie's clip was filmed, makes me feel like Gisele come to life.
"Under the Sea" from The Little Mermaid
The happiest song under the sea for the happiest place on earth. Perfection.
"When I See An Elephant Fly" from Dumbo
For when you need to believe the unbelievable.
"The Work Song" from Cinderella
Cinderella is my favorite Disney movie. I like "Bibbidi Bobbidi Bo" for running too, but singing mice win the day. I swear I can hear their metabolisms humming. The beat's not always fast, but with their "We can do it!" pluck, the mice get me thinking I can too.
"You Can Fly! You Can Fly! You Can Fly!" from Peter Pan
This is easily my favorite Disney song for running. It's not about the beat, which is often uneven or absent altogether. But the soaring choruses make me believe that I too can fly as fast as my feet will take me.
"Zip-a-Dee-Doo-Dah" from Song of the South
It wouldn't be a Disney song list without this classic. Take your pick of versions from everyone from Louis Armstrong, the Jackson Five and Rick Ocasek (for a very Cars-esque take) to Miley Cyrus. Or bend your ear to the original—still a classic.
This mix is also available in iTunes, where you can purchase songs from the list.
What's your favorite Disney song to run to?
As a member of the running media, runDisney sometimes provides me with complimentary race entry, hotel, park tickets, and some meals for runDisney events. But as always, all opinions are purely my own. I really do believe in being honest about my experiences and Disney is no exception. For more information read my Disclosure Policy.