Every now and then I hear about a race that is extraordinary. For those who really want to travel and run, the Inca Trail Marathon 26.2 Mile Race takes running travel to a whole new level—literally. Debuting in July 2012, the marathon is the first 26.2-mile race along the Inca Trail.
Traversing the footpath the ancient Incas used to travel between Cusco, Peru and the world famous citadel of Machu Picchu, the Inca Trail Marathon travels a measured 26.2-mile course that reaches an elevation of 13,800 feet and usually takes the typical hiker 3 days to complete. Runners will have just 11 hours. But the payoff is worth it: a photo finish in front of Machu Picchu.
The race will begin at 6:00 a.m. on July 5, and the course will remain open for 11 hours. There will be four aid stations with purified water, sports drinks, and energy foods, along with first aid, English and Spanish speaking staff, and radio communication for emergencies. Runner's times will be recorded as they check into each station and at the finish. Photos will also be taken along the course and at the finish. For runners who won't be able to finish in time, there will be a cutoff point with a staffed campground. Those runners can continue to Machu Picchu the next morning.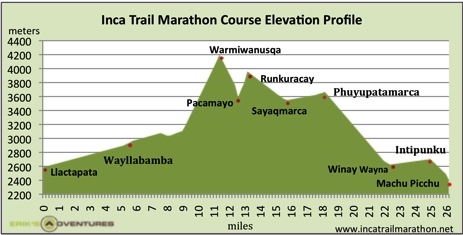 The Inca Trail Marathon 26.2 Mile Race is capped at 200 runners (permits are required to hike or run the Inca Trail, and only 500 are allowed per day), and Erik's Adventures, the race's organizer, expects it to sell out well in advance as the first 26.2-mile race along the Inca Trail. Previous iterations put on by other operators have run 27.5 miles.
Runners can register just for the race or a fully guided Erik's Adventures Peru trip from June 29 to July 8 that includes visits to Cusco, Machu Picchu, several other locations in the Sacred Valley of the Incas, and of course, the Inca Trail Marathon itself. The folks at Erik's Adventures are avid marathoners, professional adventure travel guides and personal friends of mine.
The cost of the entire trip is $1,984. The cost of just the race is yet to be determined. For more information visit incatrailmarathon.net or e-mail myra@eriksadventures.com or erik@eriksadventures.com.