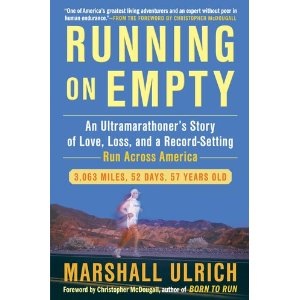 Hey ultra runners! Here's your chance to run with endurance legend Marshall Ulrich, and get an autographed copy of his new book, Running On Empty. On Sunday, June 12 JackRabbit Sports will be hosting "An Evening with Marshall Ulrich." The event starts off with a run and finishes with refreshments and a book signing. Best of all, it's free. Several such events have been held in venues like The BOK Center, and now it is your time to be a part of the run!
Best known for winning the Badwater Ultramarathon four times, Ulrich has run more than 100 races averaging more than 125 miles each, completed 12 expedition‐length adventure races, and ascended the Seven Summits. He's crossed Badwater's notoriously hot (think 130 degree temperatures) 135 mile desert route from Death Valley to Mt. Whitney in California a record 22 times, including a self‐contained, unaided solo crossing and a "quad" of nearly 600 miles.
Featured in the recent documentary film Running America, Ulrich clocked the third‐fastest trans‐American crossing in history and set new records in multiple divisions, running the equivalent of two marathons and a 10K every day for nearly two months straight.
Ulrich has appeared on ESPN, the Discovery Channel, ABC's Wide World of Sports, Dateline, The Today Show and the National Geographic Channel. He has been featured in Newsweek, Sports Illustrated and The New York Times, among others. His articles have appeared in Adventure Sports, Trail Runner and Marathon & Beyond.
Here's your chance to meet him in person, and earn some bragging rights. How many New Yorkers can say they've run with Marshall Ulrich?
What: An Evening with Marshall Ulrich
When: Sunday, June 12
5:00 p.m. Meet at the store to "Run With Marsh"
6:00 to 7:30 p.m. Presentation and book signing
Where: JackRabbit Sports Upper West Side, 140 West 72nd Street, New York, NY
How: RSVP to molly@jackrabbitsports.com