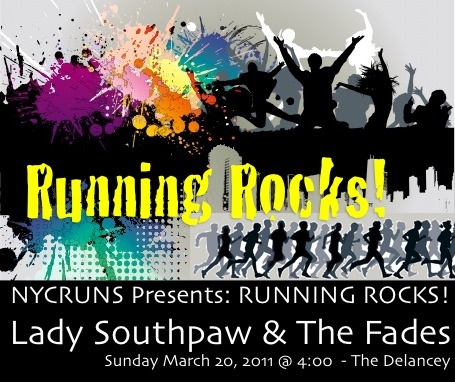 Most people who read my blog long enough know that I'm a runner and a rocker. So I'm really happy to announce that my band, The FADES, will be joining runner and rocker extraordinaire Lady Southpaw for a super special show on Sunday, March 20 at 4 pm: Running Rocks! NYCRUNS Presents Lady Southpaw and The Fades!
The FADES are largely comprised of New York Harriers, and those of you on the New York Road Runners race circuit may have seen us perform or sing a national anthem from time to time. We play '80s covers. Why? Because the '80s rocked, and if the popularity of the Rock 'n' Roll race series proves anything, it's this: rocking and running just go together. The FADES play the sound track for a million long runs done right and as many nights out.
Lady Southpaw, fronted by local running blogger Erin Sholl, is making their debut as a full on rock band playing original running music from the "Songs for Running" EP as well as some running appropriate covers.
So if you're running the NYC Half-Marathon (one of The FADES is), watching the NYC Half-Marathon (the rest of The FADES are), or have nothing to do with the NYC Half-Marathon but will be in NYC just the same, come on down and help us celebrate running.
We'll have two bands, $3 PBR drink specials and plenty of room to dance.
Tickets are $10 online now at NYCRUNS and $15 at the door.
What: Running Rocks! NYCRUNS Presents Lady Southpaw and The FADES
When: Sunday, March 20 at 4 pm
Where: The Delancey, 168 Delancey Street between Rivington and Delancey
How: Buy tickets at NYCRUNS.com. $10 online, $15 at the door.
Hope to see you there!