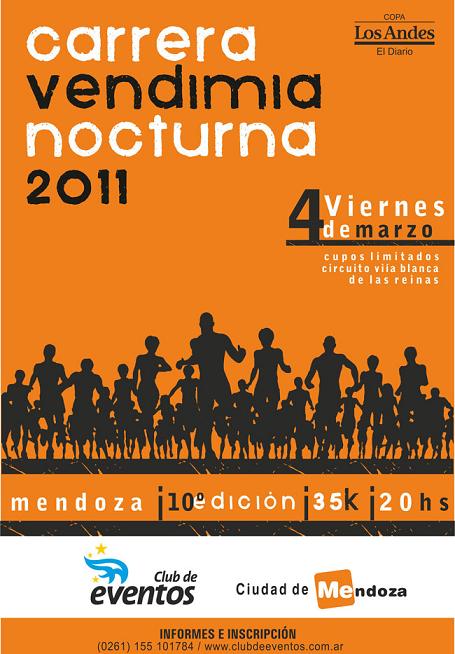 Hola from Argentina! I'm down south hiding out the last dregs of winter and dreaming about spring in NYC.
But last night, I stumbled upon a local road race in Mendoza. Maybe 100 runners, largely clad in orange shirts, raced by me along a beautiful street shaded by stately poplar trees. Men outnumbered women four or five to one, and onlookers clapped for the leaders but no one else. Suddenly, I wished so badly that I was running with them.
Before I left for the trip, I'd looked for races in Buenos Aires and Mendoza that I could possibly run. But my limited Spanish only turned up road races that were happening before I arrived or after I was already gone.
Yet, there they were: my Argentinian compadres running down the street to confused onlookers. I asked a local man what race it was and he answered that he had no idea. He didn't know a race took place during Fiesta Nacional de la Vendimia, the annual wine harvest festival that brought me to Mendoza in the first place.
Indeed, the Carousel of Queens would take over the streets shortly. Each district of the Province of Mendoza chooses a queen for the festival–a young woman aged 18 to 22–and as many as 100,000 people line the streets to watch the queens parade on their elaborate floats.
But before the queens, before the celebrations, before the crowds, there were the runners. It made me feel instantly at home, connecting me to these Mendocinos in a way I otherwise can't. We lead different lives in different languages in different hemispheres, but we all run. Who knows, perhaps there is a running blogger named Carla who writes about her trials and travails on the streets of Argentina, longing to escape north for the dregs of her winter in July and August. Maybe just maybe. At least, I'd like to think so.
UPDATE 3.15.2011: I later found out it was the Carrera Vendimia Nocturna, a 35 kilometer race held the night before the main festivities: a culturual show and crowning of the festival queen.
Karla Bruning is a writer and running nerd currently vacationing in Argentina. She has completed four marathons, trains with the New York Harriers and is a member of New York Road Runners. Follow Karla's "Notes From a Running Nerd" at RunKarlaRun.com, Facebook and Twitter@KBruning. To listen to an interview with Karla, check out The Marathon Show, available for streaming or download on BlogTalkRadio and iTunes.