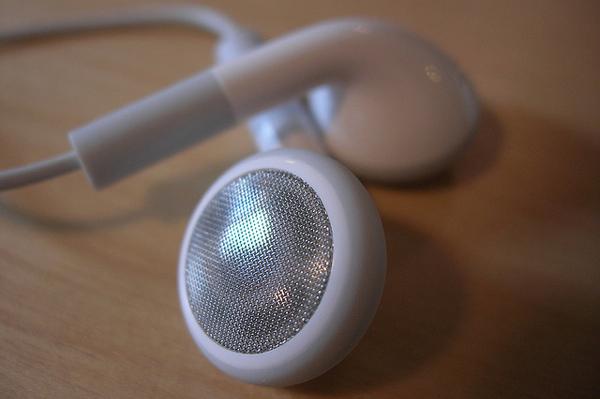 Tune into The Marathon Show to listen to a panel of runners, including Karla, discuss the ING New York City Marathon. The show is available for streaming or download on BlogTalkRadio and iTunes.
You know them instantly—those songs that always pump you up on a run, the songs you never skip when they pop up on your iPod, the songs that somehow get you to push just a little harder, even if for only three and a half minutes. I'm talking about power songs.
On Sunday, I subjected myself to almost four hours on an elliptical trainer in lieu of my last 20-mile long run before the ING New York City Marathon on Nov. 7. I'm flirting with a knee injury and my doctor told me to play it safe. If not for my iPod and tried and true power songs, I might have gone mad.
So I began to wonder: What are the awesome, amazing power songs other runners turn to when they need an extra boost?
We all know the well-trod list of inspirational running songs: "Born to Run," by Bruce Springsteen, "Eye of the Tiger" by Survivor, and of course, the theme from "Chariots of Fire."
But if you're like me, I suspect your favorite running songs are random and varied and inspire you in different ways; my running songs span a range of genres and decades. I'm a singer, and I love—love—music. So running gives me a few dates a week with one of my favorite muses who does not discriminate.
So let's put aside the "to headphone or not to headphone" debate for a moment. Even Deena Kastor, Olympic bronze medalist and the American record holder in the marathon, listens to music on runs from time to time. I've never run a race with headphones, but I often train with them—busy roads and tracks never, designated paths usually, treadmills always. Yes, I'm that crazy girl mouthing the lyrics and dancing with my hands while I'm running on the treadmill. I think there's a time and place for music in my training.
So I'll go first. Here are my Top 26.2 power songs for running. Why 26.2? In honor of the 26.2 miles in a marathon, naturally.
Karla's power songs
26.2) "Them There Eyes" by Ella Fitzgerald
Best Jazz
Okay, it's not .2 of a song, it's a whole song, but it's a great one at that. Ella, Ella, Ella. My heart sings when I hear her voice, and I envy her mad scat skills. This song is an injection of happiness, even when you're three hours into a workout.
26) "Waiting For That Day/You Can't Always Get What You Want" by George Michael
Best sentimental song
This is my sentimental pick. It's a song I've loved for nearly 20 years, and it still tugs at my heartstrings. Is it the most upbeat, the most rocking, or the most inspirational? No. But for the five minutes that it's playing, I get lost in the lyrics and my running feels effortless. After all, running hurts a whole lot less than heartbreak.
25) "To Be Young (Is To Be Sad/Is to be High)" by Ryan Adams
Best (new) old-fashioned rock song
A rollicking alt-country rocker, this song is worthy of Chuck Berry himself. Guaranteed to get your feet moving underneath you, whether you're running or dancing.
24) "Toxic" by Britney Spears
Best song that I'm embarrassed to have on my iPod
Oh, Brit. I've never been a Brit fan. I rolled my eyes at all of my college roommates for buying her albums. But then "Toxic" came along. Maybe it's the Bollywood sample or surf guitar. But I must whisper it from the rooftops: I love this song.
23) "The Underdog" by Spoon
Best horns
I love a song with a horn section, and there are so many goodies. But the boppy beat and blaring horns (not to mention spoons, claps and tambourine) make this my fave for running. "Keep the Customer Satisfied" by Simon and Garfunkel and "Brandy (You're a Fine Girl)" by Looking Glass are a close second and third.
22) "Alright With Me" by Kris Allen
Best song by an American Idol alum
I know I'm in the minority here. Carrie Underwood, Kelly Clarkson and the rest of the winners have sold far more albums. But this is the first song I ever downloaded by an American Idol alum, and I've watched the show for many years. There's just something about the guitar, the happy beat and Allen's voice. I could listen to it on repeat for an entire run and still not be sick of it.
21) "Young Folks" by Peter Bjorn and John
Best whistling (and shaker)
Anything by Andrew Bird and The Bangles' "Walk Like An Egyptian" are close behind, but "Young Folks" is just head-bopping fun.
20) "Fa-Fa-Fa" by Datarock
Best Neo-Disco
This is a dangerous song. It's impossible not to run just a little faster when it's pumping into my ear. "I need a shot—shot! I need a shot of ambition. I need a hit—hit! I need a hit of nutrition. I need a fix—fix! I need to fix my ignition. If you want to whip me into shape, I need a plan or a mission. Because I'm gonna ride fast!" Yeah, I am!
19) "Black and Gold" by Sam Sparro
Best So You Think You Can Dance song
Anyone who knows me knows that I'm slightly obsessed with SYTYCD. I even went to the national tour at Radio City Music Hall on Oct. 7. Naturally, a song or two from the show has made its way onto my iPod. The "Black & Gold" routine may have been forgettable (a rarity from Hip-Hop choreographers extraordinaire Tabitha & Napoleon, otherwise known as Nappytabs), but the song is a keeper.
18) "Any Which Way" by Scissor Sisters
Best Bee Gees impersonation
This is the only recent release on the list. I didn't want to pick of-the-moment songs because, like most people, I suffer from song crushes—in and out of love when the next of-the-moment song comes along. But I have a sinking feeling I'll be running to this for years to come.
17) "Chicago" by Sufjan Stevens
Best ode to my hometown
There have been many a musical homage to the Windy City, but Sufjan Stevens seemed to tap into its heart best with his Come On Feel the Illinoise album. "Chicago" boasts jingle bells and a driving force that propels me forward. "They Are Night Zombies!! They Are Neighbors!! They Have Come Back from the Dead!! Ahhhh!" is a close second with its military drums and I-L-L-I-N-O-I-S chorus.
16) "Theme from New York, New York" by Frank Sinatra
Best ode to my new town
Sure, it's a little slow, but it also kicks off the start of the ING New York City Marathon, and as a New Yorker, it's hard to listen to this song and not be inspired. Jay-Z's "Empire State of Mind" featuring Alicia Keys is a close second.
15) "Illusion, Coma, Pimp and Circumstance" by Prince
Best Funk
I have long loved The Purple One, and he's got many great songs for running. My favorite is this lesser known cut from Musicology. It never gets old with its classic electronic beats and trademark Prince story-telling.
14) "Do You Want To" by Franz Ferdinand
Best nouveau Duran Duran
Love me some FF for running. I swear they drink catchy juice and then crank out tunes. "Take Me Out" and "Lucid Dreams" are a close second and third.
13) "Everybody's Got Something to Hide Except Me and My Monkey" by The Beatles
Best cowbell
"I've got a fever and the only prescription is more cowbell!" It's a beloved Saturday Night Live skit for a reason. Everyone wants a little "More Cowbell!" in their lives, and The Beatles gave us plenty. It's far from my favorite Beatles song, but definitely my favorite one to run to, followed closely by "Here Comes the Sun" and "I'm Looking Through You" (both the album and Anthology versions). More cowbell (or handbell as the case may be)!
12) "Hey Ya" by Outkast
Most likely to make me dance while running (also known at rancing)
Who doesn't want to "Shake it like a Polaroid picture"? I sure do. This song is like happy juice. Sure, it's made some lists as an earworm, but I still love it, especially when I'm running.
11) "Now" by Mates of State
Best harmonies
Songs with great harmonies never get old while I'm running. They give me something to focus on—that is, if I need something to focus on. I can always count on Mates of State for some fun, upbeat harmonies. And the repetitive mantra, "Now, now, now, now, now, now, now" sure helps me power up a hill.
10) "Short Skirt/Long Jacket" by Cake
Best song from an iPod commercial
The talk-singing that Cake so often perfected, along with the "Hey/Ho" back-up shouts and a "Na na na na na na" chorus, make this song a perennial fave; I've loved it for almost 10 years now. So I wasn't surprised when Apple tapped it for their latest Nano commercial. I often find myself fist-pumping to the "Hey's" and "Ho's." Yes, I'm that runner. If you ever see me doing it, chances are I'm listening to Cake.
9) "Hung Up" by Madonna
Best sampled track
Yes, sometimes "Time goes by so slowly" when I'm on a run, but not when "Hung Up" is blasting in my ear. The song borrows its main riff from ABBA's "Gimme! Gimme! Gimme!" But unlike most sampled songs, Madge improved on the original. Yes, "Ray of Light" is still a Madonna running fave, but "Hung Up" is my go-to song.
8 ) "Idioteque" by Radiohead
Best Electronica
This song is for locking and loading. With its heavy beat, I imagine I am punching my way through mud with every step. Radiohead has a few other good runners, like "Everything In It's Right Place," but this once just keeps me surging forward.
7) "My New Philosophy" by Kristen Chenowith and Stanley Wayne Mathis
Best Show Tune (Stage)
For anyone who's ever had a personal mantra, or just wanted to act like a brat, "My New Philosophy" is a delightful, up-beat rant. The song from the 1999 Broadway revival of You're a Good Man Charlie Brown made Chenowith a star. I fully recognize that it's a pretty random pick for a power song, but something about all that yelling gets me pumped up. Call it the Broadway equivalent of Heavy Metal.
6) "Get Happy" by Judy Garland
Best Show Tune (Movie)
I get happy every time this song pops up on my running shuffle. I've been an official Judy Garland fan for about 20 years now, and this tune from "Summer Stock" is my all-time favorite Judy number (tied with "The Man That Got Away" from A Star is Born). Guaranteed to put you in a good mood.
5) "Don't Rain on My Parade" by Bobby Darin
Best Vegas-style Swing
It's one of the all-time best self-empowerment anthems. I happen to love the Bobby Darin version, but, of course, Barbra Streisand's original from Funny Girl is great too. The kids from Glee tackled it as well, but borrowed rather heavily from Babs, whereas Darin gives it his own swingin' spin. And because I'm a huge Bobby Darin fan, "As Long as I'm Singing" is my second place pick.
4) "I'm a Wheel" by Wilco
Best angry anthem
I'm generally a very positive person, a bright side Sally, if you will. So sometimes it puzzles me that I love this song with such a cynical hook: "I'm a wheel. I will … turn on you!" But man, it just pumps me up on runs. Incidentally, it's also a great break-up song.
3) "Gamma Ray," "Girl," and "E-Pro" by Beck
Best Beck
Yes, he gets his own category. When it comes to running, Beck is my main man. I could make a Top 10 list of running songs just from Beck alone. Picking the best one is a Sisyphean task. I still can't decide, so those are my top three. The faux-surfer vibe of "Gamma Ray" always gives me an energy surge, the Atari-esque intro of "Girl" always makes me happy—even during the worst of workouts—and the guitar riff on "E-Pro" always makes me want to rock out a run. Thank you, Beck, for being a friend to runners everywhere.
2) "Ramble On" by Led Zeppelin
Best Classic Rock
The ultimate song for wanderlust sufferers, "Ramble On" is an anthem for road warriors everywhere. It's easy to run with the wind in your face and rain on your back and keep on keeping on with lyrics like, "Sometimes I grow so tired, but I know I've got one thing I got to do. Ramble On! And now's the time, the time is now!" "Don't Stop Believin'" by Journey is a close second for both Classic Rockers and wanderers.
1) "It's Not Right, But It's Okay (Thunderpuss Mix)" by Whitney Houston
Best Club Mix
I don't know what it is about this song. Maybe it's the heavy-handed techno beat. Maybe it's the girl-power lyrics. Maybe it's Whitney's soaring vocals. Whatever the reason, I can listen to this song over and over and over on a run, and it will always see me through.
What are your power songs?
For even more great running songs, I highly approve of Fitness magazine's The FITNESS Top 100 Workout Songs, which includes more of my iPod staples like "TNT" by AC/DC, "Crazy in Love" by Beyonce, "Whip It" by Devo, "Sorry" by Madonna, "Groove is in the Heart" by Deee-Lite, "Get Ur Freak On" by Missy Elliot, "Feel Good Inc.," by Gorillaz, "Where are We Runnin'" by Lenny Kravitz, "Mama Said Knock You Out" by LL Cool J, "Runnin'" by Pharcyde and lots of other goodies.
Now it's your turn. What are your power songs?
Karla Bruning is an award-winning journalist and running nerd. She has completed three marathons, trains with the New York Harriers and is a member of New York Road Runners. Follow Karla's "Notes From a Running Nerd" at RunKarlaRun.com, Facebook and Twitter@KBruning. To listen to an interview with Karla, check out The Marathon Show, available for streaming or download on BlogTalkRadio and iTunes.