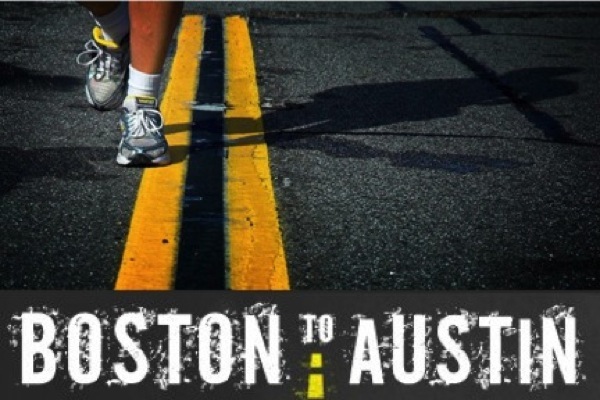 Rhys Jenkins, Scott Jenkins and Rusty Tolliver aren't professional athletes. But that's not stopping them. The three friends have set out on a potentially world-record breaking run from Boston to Austin. Over the course of 2000 miles and 75 days, they'll run at least a marathon a day while raising money for charity.
They departed on Sept. 15 from McGreevy's Bar on Boylston Street in Boston and will run through New York City, across Pennsylvania, Ohio, Kentucky, Tennessee and Arkansas to Austin, Tex., covering 26 to 40 miles per day.
All three are planning on running at all times, barring any injury, and aim to average about five miles per hour.
"We'll all be running and suffering together," Scott Jenkins, 29, said.
"Every step of the way," Rhys Jenkins, 22, added. "With a lot of trial and error and exhaustion."
The three runners bonded in the summer of 2006, when they worked as counselors at a sports camp in Northeast Pennsylvania. Scott and Rhys, brothers from Cardiff, Wales, coached soccer. While Rusty, who grew up 20 miles outside of Austin in Bastrop, Texas, was the fishing director.
Rusty first dreamed up the run after watching a documentary about Terry Fox, the legendary runner, cancer research activist and amputee who ran across Canada in a Marathon of Hope.
"I'd always wanted to do something like this," Rusty, 24, said. "Something big."
He was living in Austin, but planned on moving to Boston. The fact that the two cities rhyme is just a serendipitous coincidence. One day, he got a text message from Rhys that read, "Want to run from California to New York?" He knew whom to enlist to make his daydream a reality.
The Inspiration
Inspired by Terry Fox, Rusty envisioned the run as a way to raise money for his pet cause: cancer.
"Cancer had always been the disease, the epidemic in our family," said Rusty, who is running for Young Texans Against Cancer.
"I kind of just put my love of running with my love of community service," said Rusty, who has continued to work as a camp and YMCA counselor. "If we were able to change just one person's life—2000 miles for one person's life; two months to do something like that is amazing."
He looks to his mother as his main inspiration; she defeated uterine cancer in 1986, when Rusty was an infant, and then cervical cancer in 1996 and 1997. A single mother of three, she shielded her kids from the scary truth.
"She kept cancer from us," Rusty said. "She made up stories about why she lost her hair."
One night when Rusty was about 11, he finally learned the truth.
"We heard this big thud and she was sick on the floor, and she was shaking because of the chemo and radiation," Rusty said. "I remember the word [cancer] coming out, and me, my brother and my sister going 'Whoa.'"
But rather than make Boston to Austin a run solely about cancer, each of the men chose the charities near and dear to them. As a group they are raising money for British Heart Foundation, Help for Heroes, Salute America's Heroes, and Young Texans Against Cancer.
Scott has friends in the military, one of whom was awarded the George Cross, one of the United Kingdom's highest honors, for his bravery in Iraq.
"His stories about what these young men and women do to protect our freedom are unbelievable," Scott said.
Rhys agreed. "I have a lot of friends in the armed forces and they really are heroes, all of them," Rhys said. "They sacrifice their lives just so we can live ours."
The team envisions the run as a physical way to honor the grueling struggles that cancer patients, cardiac patients and veterans go through.
"I want to show the world what we can do if we put our minds to it," said Rhys, who recently graduated from University of Wales Institute, Cardiff with a degree in business studies.
"I wanted to do something different; to see how far I could push myself," said Scott, who works for the Welsh Assembly Government rehabilitating cardiac patients as a personal trainer. "The human body is a wonderful thing and it was made to run. Too often we don't challenge ourselves in life, and this run does something that is outside the norm. The fact that I could do this and also help the awesome charities for our militaries, cancer and heart disease is something that means a lot to us."
So far, the men have raised about $2,500 for their charities, but they hope to raise far more—as much as $375,000.
The Logistics
A 2,000 mile run certainly won't be easy. The logistics alone are mind-boggling.
"I can't imagine having a kid," Rusty said. "But this is my baby."
Between finding a support vehicle and driver, planning lodging, food, equipment and routes, the guys have been busy.
"It's been very hard planning this," Rhys said. "It's all great having the idea, but it's hard getting people to notice and believe in you. The hardest part was creating awareness and drumming up support."
They nabbed a key sponsorship from Puma, which provided the men with all their running gear—clothes and, most importantly, shoes. They've also gotten blister protection from Compeed, sweatbands from SweatGutr, heart rate monitors from Soleus and hydration belts and reflective running vests from FuelBelt. Other companies have provided food, money and supplies to keep the guys moving forward on the road.
Throughout the Northeast, they'll be couch surfing at friends and friends-of-friends places. And in a pinch, they have sleeping bags and a tent. Another friend will drive their support vehicle—a 4-door Dodge Stratus.
The Training
Planning a 2,000-mile run is one thing. Actually running it is another.
"I'm no Kenyan marathon runner," Scott joked. "I'm more of a plodder. I've always enjoyed running from a young age, and realized that as long as you can keep thinking positively, you can keep running. I think it's a mental battle as much as physical."
The longest run Scott has done to date is 33.2 miles. But the guys have been training seriously for their world-record attempt, logging as many as 100 miles a week, and incorporating strength training like squats and deadlifts for their legs.
"I've been training all my life to maybe do something like this one day," Rhys said.
He's run a number of half-marathons, but stepped up his training in the months leading up to their departure date. He and Scott have been doing five runs a week in the 10-15 mile range, and then a longer run of up to 30 miles on the weekend. In addition, Rhys has been cycling every day.
"It's been long, boring and tiring," Scott said of training in the UK, where he and Rhys live. "I'm desperate to get out to the States and run somewhere different."
Rusty grew up running track and cross-country in high school. His training in Texas included a 20-mile steady state run every Tuesday and Thursday, along with 30-mile bike rides, yoga and core work. He worked himself up too 100 miles of running per week, but tapered off to less than 80 in the last month.
"This summer has been keeping up with the miles, keeping up with the endurance," Rusty said. "The hard work was already hay in the barn."
The Run
The guys are hopeful the communities they run through will rally to support their efforts. Rusty envisions cancer survivors and veterans coming out to cheer them on.
"I'm hoping for this thing to pick up," Rusty said. "And having tears coming out of my eyes."
"I'm really looking forward to getting out and seeing America on foot," Scott said.
Rhys agreed.
"I'm most looking forward to the views of America, going through the small towns and just the open road," he said.
They're all expecting some dreaded blisters, but what if someone gets injured?
"It would be sad, but the others would carry on if the injury means the end for one of us," Rhys said. "Obviously we'll get niggles and have a few stops, but the run will be completed no matter what!"
With two brothers and a friend on board, there are sure to be some tense moments. But none of the guys seem fazed by that.
"I'm sure our relationships will come out a lot stronger at the end and we will all be better people for it," Rhys said.
"We dealt with a couple bickers here and there through the prep of this," Rusty said. "But we all have the same goal in mind: to do this run the best way and the healthiest way we know how while getting the word out about our charities."
"I'm sure well have a few ups and downs and arguments," Scott agreed. "But through all the blood, sweat and tears we'll emerge with an even better friendship and memories that will last a lifetime."
He paused.
"And hopefully a world record too!"
Though getting the world record is not their main goal, it is a nice perk. If they complete the run, they will break the Guinness World Record for most consecutive daily marathons. The current record is 52 marathons in 52 days. They're aiming to top that by running 75 marathons in 75 consecutive days.
"The world record is important, but to me raising the money and awareness for our four great charities really is the number one objective," Rhys said. "It's what this run was designed for and it's what we will achieve."
"I'm not out to do a world record," Rusty said. "I'm ready to get out there and raise some money."
To donate to the Boston to Austin charities, find a map of the runners' route, or track their progress, visit 2000milerun.com.
Photos courtesy of Boston to Austin.
Karla Bruning is an award-winning journalist and running nerd. She has completed three marathons, trains with the New York Harriers and is a member of New York Road Runners. Follow Karla's "Notes From a Running Nerd" at RunKarlaRun.com, Facebook and Twitter@KBruning. To listen to an interview with Karla, check out The Marathon Show, available for streaming or download on BlogTalkRadio and iTunes.