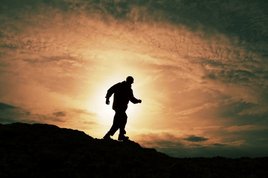 Most of the time, I look forward to going for a run. I plot and scheme what time I'm going to head out, how long I'm going to run for, what kind of run I'm going to do. I anticipate the appointed time when I'm slipping on my shoes and stepping out the door.
But then, there are days when the motivation to run simply escapes me, when just the thought of running makes me feel drained like I need to take a long nap. What to do when your motivation runs away from you?
Losing that drive is like losing my wallet or cell phone—I feel naked and lost without it. Because I know—I know—that I will feel better if I exercise, that I always feel better after a run. I know that the run will leave me feeling invigorated and refreshed, even if a little spent. I know the run will make me feel good about myself, good about my health and will encourage me to have fish and salad for dinner instead of the burger and milkshake I might be daydreaming about. I know that going for a run will do the magical and wonderful things that going for a run always seems to do. Simply, it will make me happy.
And yet, and yet: I can't find the motivation to put one foot in front of another. What to do?
Sometimes I indulge myself—within reason. I'll ignore a craving for a burger, but if the craving lingers for a week I usually give in. I tell myself that it must mean my body needs iron. I eat the burger, the craving goes away and I go back to having avocado and veggie sandwiches for lunch. Problem solved.
So when my motivation to run is nowhere to be found, I'll give in for a day or two. I'll skip running in favor of yoga or calisthenics in front of the TV. I'll tell myself that my lack of motivation means my body just needs a rest.
That may well be the case today. A week and a half ago, I raced a 10K to a big PR, shaving almost three minutes off of my best time. I took the next day off and then resumed my usual running schedule. But when the time came for an easy 5-miler on Monday, I just didn't want to do it. I told myself it was okay, I could run it on Tuesday. But then Tuesday came and I didn't want to run then either. When 5:30 pm rolled around—the time I had set aside for my workout—the last thing I wanted to do was go for a run. So I gave myself a second "pass."
Usually those two days off would leave me refreshed and raring to go. Instead, come Wednesday, I just feel blah. It's hot outside. Blah. The treadmill is boring. Blah. I'm tired and I'd rather take a nap. Blah.
Oh where, oh where has my motivation gone? Oh where, oh where can it be? I feel like I have lost my dog, my pal, who barks at me to "go out," who gets me to put on my shoes to do fun, healthy things like frolic in city parks.
But when you lose your dog, you don't sit idly at home waiting for it to come back. You go out there and find it! You tape posters to trees and signposts. You ask neighbors, friends and strangers, "Have you seen my dog?" You get proactive!
It's time for me to do the same. I do things I don't want to do all the time because they simply have to be done, because the dog must be found.
When I was a kid, my mother used to always ask me after dinner, "Karla, do you want to do the dishes?"
"No," was always my sarcastic reply. "But I will."
I'm sure she rolled her eyes. Night after night, she'd pose the question and night after night, I'd answer, "No." Because the truth was, I didn't want to do the dishes. I'd be lying if I said, "Yes." I hated doing the dishes (and I still do). But I did them because my mom wanted me to.
When my air conditioner breaks, I don't want to call the repair company and sit around for three hours in my now tropical apartment waiting for them to appear, but I have to if I want AC. I don't ever want to do laundry, but I have to if I want clean socks. The things we get in return for doing onerous tasks usually make the tasks worthwhile.
So here I am: day three of my motivation crisis. I remind myself that the rewards of running are even more valuable than air conditioning and clean socks, and that once I'm on that run, the vitality I'll inevitably feel is its own reward.
So motivation, smotivation, I'm going for a run anyway. I'm going to lace up my shoes and find my motivation, wherever it has run off to. Heck, maybe that's where it went—it went for a run without me.
Karla Bruning is an award-winning journalist and running nerd. She has completed three marathons, trains with the New York Harriers and is a member of New York Road Runners. Follow Karla's "Notes From a Running Nerd" on The Washington Times Communities, Facebook and Twitter@KBruning.
Photo by Galyna Andrushko/© PhotoXpress.com