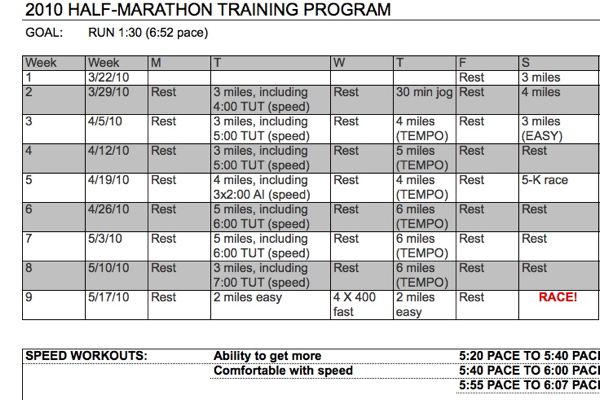 You've got questions. I'll find the answers. "Ask the Running Nerd" is back.
Question:
My husband and I are scheduled to run our first half-marathon in July. I have been running on my own without any training plan for a few months now and today I went for a 10-mile run. We're 10 weeks away from the race and I'm not sure what my training should look like for the next several weeks. I don't want to lose the endurance I've worked for thus far, but I also don't want to injure myself before the race. Any ideas?
—Kerry
Answer:
I've gotten three variations on this question in the last few weeks. To maintain endurance and avoid injury, the best thing to do is to follow a training plan developed by experts who know what they're talking about. By following a program, you'll know exactly what your training should look like over the next few weeks, and you'll be primed and ready come race day.
Following a plan is the easy part. The hard part is picking the plan that's best for you.
Think about what your goals are for the race, and what your running style is: do you run every day, do you run every other day, do you want to cross train, do you have a specific goal time in mind, or do you just want to finish? There's a program for every type of runner.
Any good training plan will guide you through the three key workouts for building speed and endurance: easy runs, long runs and speed workouts. They'll also have you add mileage gradually so that you'll reduce your risk of injury. In addition to a good training plan, be sure to eat well and get plenty of calcium and vitamin D to help stave off injury.
Here are just a few plans that offer a range of options. Most are free and available online. Click on the names for more information:
FIRST
The Furman Institute of Running & Scientific Training, better known as FIRST, offers training programs based on the motto of "Run Less, Run Faster." Their programs were developed from field and lab tests to maximize performance. You'll run just three days a week with cross training thrown in. I've long been curious about the first programs and may try their marathon program myself later this year.
Runner's World
The Runner's World Ultimate Half-Marathon Training Plan offers three programs for beginner, intermediate and advanced runners, with a handy little description of each type so you know where you fit in. You'll run four or five days a week for nine weeks, gradually intensifying your workouts before a pre-race taper.
Hal Higdon
Runner and writer extraordinaire Hal Higdon offers three 12-week training plans for novice, intermediate and advanced runners, as well as walkers. Depending on the plan, they include four or five days of running, plus strength training and cross training. One hallmark of his plans is that he encourages runners to "juggle" workouts from day to day or week to week. He recognizes that our lives never fit perfectly with a training plan, and thus he says to use the training plan as a guide and adjust it as necessary. "Be consistent with your training," he writes, "And the overall details won't matter.
Jeff Galloway
Former Olympian, coach and writer Jeff Galloway has pioneered the run-walk method with impressive results—he boasts a 98 percent success rate with his plans. He encourages runners of all speeds—not just beginners—to take walk breaks for faster results. Sure, you lose a little time on walk breaks, but with just that little bit of rest, you're able to run faster overall. He offers two programs—one for runners and walkers and one for runners with a goal time in mind—that are based on a philosophy of less is more. On Galloway's low-mileage plans, you'll run just three days a week with a fourth day of walking. Cross training is optional on your three rest days.
Those are just a few different plans to choose from. There are many, many more out there. Nike+ offers a Coach program that allows you to somewhat customize a training plan to your Nike+ account. Fitness magazine will send you an 8-week plan via e-mail. And some races, like Grandma's Marathon and Garry Bjorklund Half Marathon in Duluth, Minn., even offer plans themselves.
Whether you want to run three, four, five or six days a week, whether or not you want to include walk breaks in your race, and whether or not you want to cross-train, there's a plan for you. They'll all guide you through the three key workouts every runner should do, and help you safely prepare for the big race. With a good plan to follow, you'll know exactly what your training should look like over the next few weeks, and you'll be ready come race day.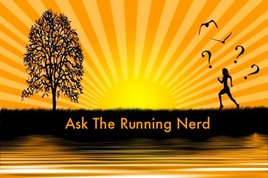 Good luck and happy trails,
The Running Nerd
Do you have a question? I'll find answer. Let my fingers to the walking, or running, for you. Contact me here: Contact Karla Bruning or post below.
The content provided is intended for general informational purposes only. It is not a substitute for informed medical advice or treatment that may have been prescribed by your physician or other health care provider. You should not use this information to diagnose or treat any health problems or injuries without consulting your doctor, and in no way will Run, Karla, Run be responsible for any kind of injuries or health problems that might occur due to the use of this website or the advice contained in it. Always consult a physician before starting any new exercise or running regimen.