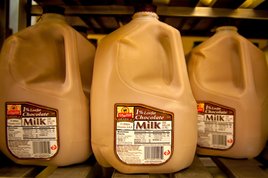 The eight-year-old in me is bouncing off the walls. When I read not once, not twice, but three times in Runner's World that multiple studies have concluded chocolate milk is the perfect recovery drink, I wanted to break out in song, kiss the stranger next to me on the subway and click my heels in the air. And it's not just Runner's World covering the evidence stacked in chocolate milk's favor; Fitness magazine, CBS News and AskMen.com among others have reported chocolate milk's benefits.
I love chocolate milk. It's a life-long love like a favorite color or sports team. I remember slurping chocolate milk from my Mickey Mouse mug and smiling a really big smile as my straw gurgled with the sound of an empty bottom.
Chocolate milk might even be my favorite drink—if not my favorite then it's definitely top three with chocolate milk shakes and hot chocolate. You get the idea. Sure, I'll wax poetic about lemonade and apple cider every now and then, but those are seasonal favorites. Chocolate milk is a year-round friend.
The diet conscious gal in me used to reserve it for a treat every now and then. But ever since I read the amazingly good news, I've been chugging about a glass a day—mostly after a run, but sometimes just for fun. Not only have I not gained weight, I've even lost some. It seems milk really does a body good.
So what makes chocolate milk so terrific as a post-run thirst-quencher? It has the perfect balance of carbohydrates, protein and fat to sooth your hard-worn muscles, and a high water content to help you rehydrate. A number of studies from Indiana University, James Madison University, Northumbria University in the U.K., and McMaster University in Canada have found that chocolate milk is as good or better than the electric colored sports drinks at aiding muscle recovery after a tough workout. One study even concluded that drinking chocolate milk between exercise sessions actually boosts endurance.
So that only leaves one question: which type of chocolate milk to have? I'm sure everyone has their favorite—pre-mixed, syrup, powder, etc. Me? I'm a Nesquik girl. Always have been. Probably always will be. So grab yourself some chocolate milk and drink up. Your muscles—and your tummy—will thank you.
Photo by eelke dekker/Flikr