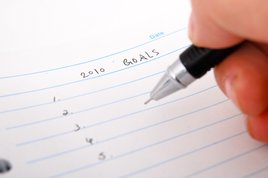 It's a New Year. And that can only mean one thing: time to make some New Year's resolutions.
I'm a goal-oriented person. So along with my general resolutions—which usually include things like "run a marathon"—I'm making a list of running resolutions. Here goes.
1. Get faster
2. Fast enough to race a sub 2-hour half-marathon
3. Even faster to race a sub 4-hour marathon
Sounds simple enough, right? Well…
Getting faster is a constant goal of mine. Fast is fun, but it's also practical—the faster I get, the quicker I complete long runs.
I once read that people who start running as adults can expect up to 10 years of constant improvement before they peak. That makes me very happy, having been a dedicated runner for less than 10 years. (I had a rare bone tumor in my leg that prevented me from running for 12 years, but I'll write about that another day.) So I still have a lot of improvement left in me. I hope.
So what am I going to do to get faster?
I'm going to attend team speed workouts once a week in addition to my regular runs. I'm always amazed how much better I perform with other folks around than I do on my own, and how it inspires me to work harder.
I'm also going to do my best to keep up with yoga once a week, and add some weight training. I used to be a big fan of weights, back when I couldn't run. But since I've rediscovered the joys of putting one foot in front of another, I've foregone weights completely. But I used to really love "hitting the gym" and I know how much I'll benefit from it, so I'm going to try to incorporate that into my routine twice a week.
As for racing a half-marathon under two hours, well, I've never actually raced one before. My fastest half to gauge by was the first half of the 2009 Chicago Marathon—I ran it in 2:14:28 and then went on to finish a marathon. Based on that, I think I could do it in 2:05. And with some nose to the grind, maybe sub-2. I've targeted a race in May for my big half-marathon debut. So I've got five months to train. Gulp.
Running a sub-4 hour marathon? That's a whole other story. If I can do a half under two, I'll be in striking distance with another five months to train before the ING New York City Marathon in November. Deep breaths. Deep breaths.
Thankfully, a friend of mine has the same goal. So we've made a pact to train together, which I think will help immensely. My first marathon, I trained by myself. My second marathon, I trained solo and with a few faster friends. My third marathon, I trained solo, with a few faster friends and with a team. I'm starting to get the idea. More is definitely merrier for me. And running with a pal who has the same goal with probably push me to get 'er done.
The Yasso 800s I've run suggest I have a 4-hour marathon in me. (If you're not familiar with my frenemy workout, the Yasso 800s, check it out.) I've thought of myself as a "slow and steady" runner for so long that it's hard to break out of that mindset. But "fast and steady," here I come.
2010 is barely here, and I'm already excited for what a whole new year of running will bring. Will I get 'er done? Who knows, but I sure am resolved to try.
What are your running resolutions for 2010?
Photo © 学君 李/PhotoXpress.com