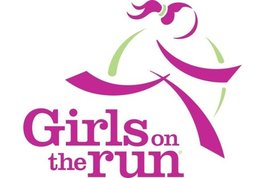 It was bracingly cold as the temperature dipped below freezing, but the giggles of two hundred grade school girls filled the courtyard outside of Asphalt Green in Manhattan on Saturday morning. Some of the girls were getting their hair spray-painted at a "Happy Hair" stand, others were sipping hot chocolate and many more were socializing with friends and family. But nearly all of them were excited to run—and no short distance at that—3.1 miles.
Back in grade school, I loved to run. Mostly because it was the best way to get from point A to point B. But also because it was part of so many games I liked to play—Freeze Tag, Flashlight Tag, Ghost in the Graveyard and all the other neighborhood romps. But also because I was on swim team and "dry land" practices often involved loops around the indoor track at my local YMCA; jogging the track gave my teammates and me a chance to socialize that we didn't get with our faces in the water.
But I never had a chance to be part of a formal running program back in elementary school. So when I heard about Girls on the Run, I was excited to help out.
Girls on the Run is a national non-profit program for girls aged 8 to 13 that promotes self-esteem and healthy living through running. During the 12-week program, volunteer coaches lead the girls through lessons and workouts that focus on individuality, team building and community. The culmination of the program is a non-competitive 3.1-mile run.
That's where I came in. My friend Karen and I volunteered to be Running Buddies for the Girls on the Run Manhattan 5K. As Running Buddies we each ran with and encouraged one girl along the way.
We were both assigned to girls from P.S. 198 in Flatbush, Brooklyn. I was paired with a quiet but tall 11-year old who wore a pink bowed headband and matching pink fingerless gloves. She reminded me of myself at that age—long and lanky and not quite sure what to do with all those limbs. I asked her name and she whispered it so quietly that I had to remove my earmuffs to hear her. But while we were running, I was sure to cheer it loudly.
As we warmed up, I asked her about her school and friends. When I asked her if she liked to run, her face lit up and she shook her head yes.
Pretty soon, we were off. Karen was running with another girl from the same class and it was clear the two girls wanted to stick together. We started off at a slow jog, running along the East River in upper Manhattan. But sure enough, they'd slow to a walk and it was up to Karen and me to pep them up and get their legs moving.
"How about we run four lampposts and then walk one?" Karen said.
It was that simple. At the next lamppost they took off in a dead sprint leaving Karen and me in the dust. We laughed. But sure enough, they were walking and out of breath four lampposts later.
"Okay, when we run next time, we don't have to sprint," I said. "We can just jog really easy and see how long we can run for."
My running buddy was game. When we started our jog again, she kept up at a steady pace for a much longer time until she needed to walk again.
"How far are we going?" one of them asked.
"3.1 miles!" Karen and I cheered.
"How far is that?" one of them asked.
"Do you ever run on a track?" Karen asked. They shook their heads yes.
"Well, one mile is four times around a track," Karen said.
"That far???" They seemed amazed.
"Come on!" I said. "You guys can do this! We'll just take it bit by bit." And we did.
By the halfway mark, they were happy to get some water at the refreshment stand. We had all worked up a sweat and were quite warm instead of freezing cold.
"Alright, you're more than half-way there!" I said. "You're doing an awesome job!"
And they were. We'd run and walk and run and walk, picking points in the distance to run to.
"Can you run to that green bridge up there?" I'd ask.
"Let's run to the end of that ramp in the distance," I'd say.
And my girl on the run always said yes. She was a trooper.
As we neared the finish, she could see her family—her mother, father and sister—waving to her from across the street. We took one more walk break.
"Okay, pick a point and tell me when you think you can run again," I said.
"Um, those green things over there," she said pointing to some trash bins.
"Okay, let's do it!" I said.
And when we reached the green bins, she didn't need any prodding. She peeled away in a mad dash to the finish under a balloon arch.
Her family was there to greet her, and I told them what an amazing job she did. I hope she knew I meant it. I don't think I ever ran 3.1 miles in one stretch at that age. And I was thoroughly impressed with her conviction and perseverance.
As a runner, I've raised money for cancer patients, volunteered for New York Road Runners and sung the national anthem at a world-class race (I moonlight as a singer with two bands). But this was probably the most fun and rewarding volunteer activity I've done as a runner. Being part of the running community is important to me. And getting to encourage the next generation of female runners? That's priceless.
To learn more about Girls on the Run go to girlsontherun.org or find a chapter near you.